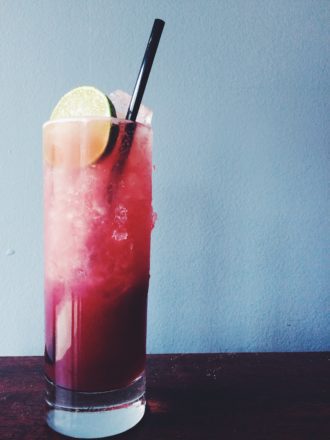 A summery swizzle meets the classic El Diablo in this hybrid cooler from the Libertine in St. Louis.
2 oz. blanco tequila
3/4 oz. crème de cassis
1/4 oz. Velvet Falernum
1/2 oz. fresh lime juice
1/2 oz. fresh orange juice
1/2 oz. ginger syrup
Dash maraschino liqueur
Tools: swizzle stick
Glass: Collins
Garnish: lime wheel
Combine all ingredients in a Collins glass and swizzle with crushed ice. Top with additional crushed ice to fill the glass and garnish.
The Libertine, St. Louis, Missouri