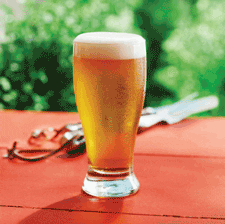 Even though session-style beers go back centuries in Europe, they may as well have been invented with southerners in mind. Often dubbed "lawnmower beers," the low-alcohol, easy-drinking sessions cap at 4.5% ABV (though some count anything under 5), and though they've been gaining popularity across America, perhaps no other region has embraced the style as wholeheartedly as the land of sweltering summers and barbecue. Here are 6 Southern interpretations of the style.
Bluegrass Brewing Co. Altbier
Louisville, Kentucky, 4.19% ABV
This classic German-style ale boasts a complex malt profile—Munich, wheat, caramel and chocolate varieties go into the mix—and enough spicy German hops to clear the palate and prep you for a second pint.
Craggie Brewing Co. Toubab Brewery
Asheville, North Carolina, 4.2% ABV
This is a crisp, organic-hopped, unfiltered Zwickel-style lager named for Asheville's own world-music superstars Toubab Krewe. For each keg sold, Craggie donates $5 to Instruments4Africa.
Lazy Magnolia Southern Gold
Kiln, Mississippi, 4.4% ABV
Brewer Leslie Henderson crafts this golden honey ale to fit the tastes of the southern palate—it's brewed with local Mississippi honey from her husband's bee-keeping Uncle Milton.
Nantahala Brewing Co. Bryson City Brown
Bryson City, North Carolina, 3.8% ABV
A smooth, chocolatey, nutty offering from deep in the Smoky Mountains, Bryson City Brown is mild but flavorful, just like a good session beer should be.
Rahr & Sons Brewing Co. Ugly Pug
Fort Worth, Texas, 4.5% ABV
This Schwarzbier, or German black lager, is dark but with a refreshingly light body. Hints of coffee and chocolate round out the flavor.
Yazoo Brewing Co. Dos Perros
Nashville, Tennessee, 3.5% ABV
This Mexican- and Austrian-style ale is made to go with barbecue, burgers, Creole and Cajun food. The sweet malty body complements anything smoked or grilled, and there's just enough hop bitterness to cut through heavy southern sauces.
THE KÖLSCH CONNECTION
Several southern breweries have adopted the German Kölsch-style, brewing light, delicate, wine-like ales that weigh in between 4.5% and 5% ABV—a tad high to qualify as session beers by the strictest definition, but they're still low-alcohol compared to their monster craft cousins. And many brewers and beer lovers consider Kölsch to be the perfect session beer, definitions aside. Here are three southern notables.
Coast Brewing Co. 32/50 Kölsch
Charleston, South Carolina, 4.8% ABV
Soft and floral, with a hint of citrus and honey.
Mother Earth Endless River
Kinston, North Carolina, 4.9% ABV
Crisp and fruity, with a slightly tangy finish.
St. Arnold Fancy Lawnmower
Houston, Texas, 4.9% ABV
Light and refreshing with bright citrus notes and a touch of malty sweetness.