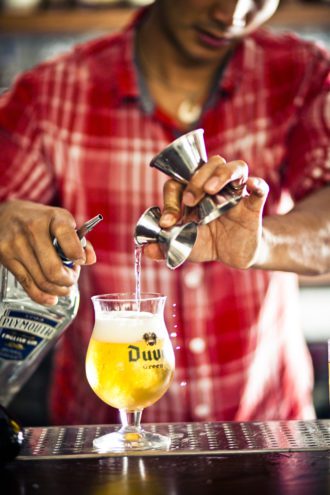 Craving a cold one? As one of the oldest beer-spiked refreshers, shandies are a long-time favorite of England's working class. They traditionally combine light beer with lemonade, soda or ginger beer. Here are three variations for your summertime imbibing.
Classic Lemonade Shandy. For a taste of one of summer's simplest refreshers, gently mix equal parts lemonade and beer (try a pale ale or IPA) and adjust according to taste. You can use store-bought lemonade or for a quick homemade version, combine equal parts honey syrup (1:1) and fresh lemon juice and dilute with water to taste (usually about 3 times the amount of lemon juice).
Gin-Cassis Shandy. Adapted from the Fowl Friar cocktail by Brian Means at the Fifth Floor in San Francisco, this shandy ups the ante with gin, a quick-infused vermouth and cassis. To start, infuse 2 teaspoons of loose-leaf Earl Grey tea (or 2 teabags) in 375 ml. of blanc-style vermouth for 30 minutes and strain. Then shake together 1 ounce of gin with a ½ ounce each of fresh lemon juice, infused vermouth and crème de cassis with ice. Strain into a footed Pilsner glass and top with 6 ounces of a wheaty white ale.
Belgium Sucker Punch Shandy. For this spritzy refresher (pictured), Kevin Diedrich, the bartender behind Jasper's Corner Tap & Kitchen in San Francisco, updates the classic formula with a botanical burst of gin. Simply add 1 ounce of gin and a ¼ ounce of fresh lemon juice to 10 ounces of a light-bodied Belgian brew, like Duvel, and stir.