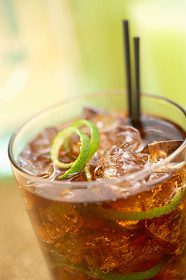 The addition of lime juice transforms a simple rum and Coke into a Cuba Libre, a more nuanced drink that has spanned the last century.
2 oz. light rum
Juice of half a lime
4–6 oz. cola (use a quality cane cola, like Boylan's)
Tools: barspoon
Glass: highball
Garnish: lime twist or wedge
Fill a glass with ice and add the rum and lime juice. Top with cola, stir and garnish.