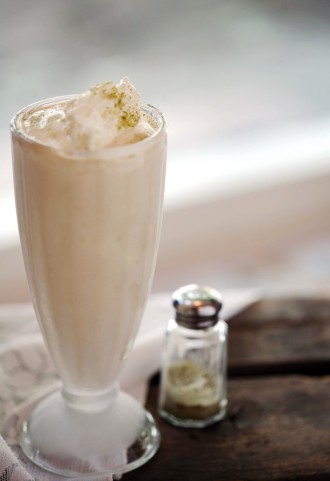 Milkshakes get a boozy boost at Autumn Martin's Hot Cakes Molten Chocolate Cakery in Seattle. This frosty mezcal caramel shake is a salty-sweet favorite, with wisps of smoke for added interest.
1 oz. mezcal
1 oz. caramel sauce
3 scoops vanilla ice cream, softened
Tools: blender
Glass: milkshake
Garnish: whipped cream, lime sea salt
Blend the mezcal and caramel sauce until smooth. Add ice cream and blend until just incorporated. Top with whipped cream and a sprinkle of sea salt.
Lime Sea Salt: Preheat your oven to 250 degrees F. Zest one lime. Lay the zest out on a cookie sheet and dry in the oven for about 30 minutes until crisp. Chop fine and combine with 1 tablespoon of sea salt.
Adapted with permission from Malts & Milkshakes by Autumn Martin