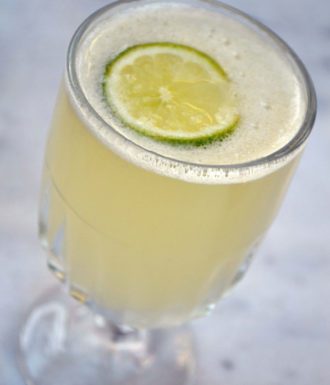 The Johnny Utah cocktail from Erick Castro highlights an unexpected ingredient: celery. If you don't feel like making your own celery seed syrup, sub in an ounce of Dr. Brown's Cel-Ray Soda.
2 oz. blanco tequila
3/4 oz. fresh lime juice
3/4 celery seed syrup
Pinch of salt
1 oz. soda water
Tools: shaker, strainer
Glass: double rocks
Garnish: lime wedge
In a shaker, combine the tequila, lime juice, syrup and ice. Shake well and strain into an ice-filled glass. Top with soda water and a pinch of salt. Garnish.
To make the celery seed syrup: Bring 1 cup of water to a boil. Remove from heat and stir in 1 cup of granulated sugar and ¼ cup of celery seeds. Allow to cool, then strain. Sealed and refrigerated, the syrup should keep for up to two weeks.
Erick Castro, Polite Provisions, San Diego