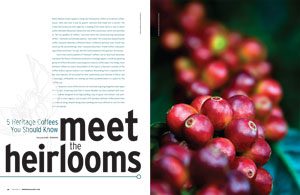 When Nikolas Krankl cupped a rising-star Panamanian coffee at his Boston coffeehouse, Taste, last June, it was his guests' reactions that made him a convert. The crowd had turned out that night for a reading of the book God in a Cup, in which author Michaele Weissman follows the trail of the Gesha bean, which she describes as "the sex goddess of coffees," and from which the award-winning Panamanian coffee—Hacienda la Esmeralda Special—was made. The crowd was seduced by the coffee. Everyone detected a different flavor, a different perfumy note; Krankl was struck by the overwhelming "color" everyone described. "A blah coffee is like painting in black and white," he says. But the Gesha dazzled in full, glorious Technicolor.
Such is the colorful palette of "heirloom" coffees. Just as Slow Food advocates champion the flavors of heirloom tomatoes or heritage apples, a small but growing group of coffee enthusiasts is pursuing once-obscure coffee types. Put simply, most heirloom coffees are direct descendants of the Typica or Bourbon varietals of the Coffea Arabica species (Gesha is an exception, descending from a separate line of the same species). All are prized for their authenticity and intensity of flavor, and increasingly, coffeephiles are seeking out these purebred beans in a quest for the perfect cup.
In response, some coffee farmers are reintroducing long-forgotten bean types to their soil, reclaiming land that in recent decades has been planted with man-made hybrids designed to be high-yielding, easy to grow, and disease- and pest-resistant. In some regions, such as parts of El Salvador, heirloom coffee plants have survived all along, despite being lower-yielding and more difficult to care for than modern hybrids.
Bourbon, Typica and naturally occurring descendants of both continue to thrive in these areas, relatively untouched by the agricultural revolution. "Nearly 95 percent of [El Salvador's] coffee is two steps away from the Bourbon or Typica variety," says Luis Rodriguez, a Salvadoran coffee farmer and consultant. And in mountainous Bolivia, almost all of the coffee plants are the traditional Typica variety, according to Tom Owen of Sweet Maria's Coffee in Oakland, California.
In Ethiopia, widely regarded as coffee's birthplace, thousands of heirloom varieties grow wild. Most of these strains are undocumented and have yet to be cultivated for commercial use, but that's changing. Joseph Brodsky, an heirloom-coffee obsessive who runs Denver-based importing company Ninety Plus Coffee, is on a mission to bring the best of Ethiopia's wild coffees to cafés and kitchens around the world. He's already brought two new varieties—Aricha and Beloya—to the world stage. And a handful of heirloom breeds are making a comeback in Central and South America. Craft roasters purchase these beans—with names like Pacamara, Gesha and Caturra—at top dollar, often after they've been honored at international coffee competitions, such as the esteemed Cup of Excellence.
And coffee drinkers are starting to take notice. "People in the Bay Area are excited about the word 'heirloom'—that someone was drinking it 100 years ago," says Eileen Hassi, owner of Ritual Coffee Roasters in San Francisco. Four of the five coffees on Ritual's menu incorporate heirloom bean types, but Hassi notes that even her most avid customers, who might appreciate the difference between two single-origin coffees, don't yet ask specifically for heirlooms. "One day [coffee drinkers] might have an understanding of the different [varietals]," she says. "By putting them on the menu, we're priming people for that."
So while you may not yet be able to visit your favorite coffee shop and order a shot of Pacamara without getting puzzled looks, that day may be coming soon. "Awareness of heirloom coffee is still in its infancy," says George Howell, founder of Boston's Terroir Coffee Co., "but I think it's the wave of the future." Following are five heirloom varietals to keep an eye out for.
BOURBON
Bourbon (Bour-bone) is one of the two original coffee varietals together with the venerable Typica. It is named after an island that was once known as Bourbon, now Réunion, east of Madagascar, where it was discovered in the 18th century. It was later planted in Brazil and El Salvador, earning a reputation for its balance and complex acidity. While red-skinned Bourbons are most common, some of the fruit ripen to a yellow or, rarely, orange or pink. These natural variations are named for their skin color (Yellow Bourbon, Orange Bourbon, etc.) and are often prized for their uniqueness.
The flavor profile varies depending on where the Bourbon is grown, but many coffee pros describe the taste as nutty or chocolaty, with a full, creamy body. Like other heirloom coffees, Bourbons require extra effort and care from farmers; they're harder to grow than robust, man-made hybrids, requiring conditions to be just right, and they tend to be lower-yielding—but the payoff can be big.
Bourbons enjoy what's known as the "Bourbon advantage" at coffee cupping competitions. Nearly 30 percent of the 189 Cup of Excellence award-winning coffee lots that Brazil produced between 1999 and 2005 were Bourbons, even though Bourbons represented less than 1 percent of Brazil's total production at the time, according to a paper by the Salvadoran Coffee Council that cites the Alliance for Coffee Excellence and the Brazil Specialty Coffee Association. "Bourbons often do better in competition, all other things being equal," says Susie Spindler, executive director of the Alliance for Coffee Excellence, which runs the Cup of Excellence competitions. "I love the balance, richness and strength of flavor in top-quality Bourbons."
3 to Try
Counter Culture El Salvador Finca Mauritania counterculturecoffee.com, $12/12 oz.
PT's El Salvador Finca El Molino ptscoffee.com, $17/lb.
Victrola El Salvador Apaneca-llamatepec San Jose/Shangrila  victrolacoffee.com, $11/8 oz.
PACAMARA
Pacamara is a relatively young varietal, first produced in 1958 in El Salvador. It is the love child of Maragogype (Mara-go-HEE-pay) a Typica offspring prized for producing leafy foliage and gorgeous, large coffee beans, and Pacas, a prolific Bourbon descendant. Think of it as the gorgeous cousin with lush curves in all the right places—big coffee beans and lots of them.
Robust Pacamara, with its distinct citrus flavor profile and superb aromatics, has attracted considerable attention in the specialty coffee world in recent years. The Pacamara-based La Montaña garnered first place at the 2007 El Salvador Cup of Excellence competition, and El Injerto took the gold in Guatemala in 2006, 2008 and 2009.
Flavor profiles for this bean can vary widely depending on where it is grown and how it is handled. The Salvadoran Coffee Council generalizes Pacamara as having a floral aroma and flavor but notes it also can be nutty with hints of clove, cinnamon, chocolate, stone fruits and berries.
With all these possibilities in one bean, perhaps it's unsurprising that some, like Howell, describe Pacamara as possessing "a unique honey-pecan profile, a touch of butterscotch," while others, like Owen of Sweet Maria's, laud the varietal's fruity side. "Higher grown, well-processed Pacamara have clean, well-defined fruited notes, sometimes berry-like, spice accents, and pronounced acidity," he says. On his encyclopedic website, sweetmarias.com, he once bestowed an especially high honor on a Nicaragua Pacamara, writing, "It's like the rustic, fruitier sibling to a Gesha coffee."
3 to Try
Batdorf & Bronson El Salvador Siberia dancinggoats.com, $14/16 lb.
Orleans Coffee Exchange El Salvador El Porvenir orleanscoffee.com, $14/lb.
Terroir Select El Salvador La Montaña terroircoffee.com, $18/12 oz.
CATURRA
Caturra is a naturally occurring, higher-yielding mutation of Bourbon that grows well in diverse environments. It was discovered in Brazil but now is also commonly found in mountainous regions throughout Central and South America.
Compared to Bourbons, Caturra is often described as less sweet, more crisp and acidic, and with pronounced fruity flavors, which Krankl ascribes to the tight cluster formation of the tree's small coffee cherries. Some roasters also point to a puckery, tannic characteristic, as found in many deep red wines. "Not every Caturra varietal will have it," Krankl says, "but I've noticed that it's like a golden raspberry or a sour cherry, that pulling sensation you get in the sides of your mouth. It's like a sweet lemon, or a Pinot Noir."
3 to Try
Barrington Coffee Roasting Costa Rica Doka Estate
barringtoncoffee.com, $12/lb.
Counter Culture Colombia Melenje/Borrero
counterculture.com, $14/12 oz.
Sacred Grounds Peru Perla Andina
sacredgroundscoffee.com, $13/12 oz.
MUNDO NOVO
Mundo Novo, a natural hybrid of Bourbon and Typica, was first found in Brazil and continues to grow well there. The plant is naturally hardy, robust and disease-resistant. At its best, says Craig Holt, founder of Atlas Coffee Importers, Mundo Novo has a "really round, dark berry flavor" and a "deep and silky" mouthfeel. Some Mundo Novos exhibit notes of dark chocolate, citrus and spice.
"My first encounter with a wonderful Mundo Novo was three years ago, when I roas
ted a coffee from the Brazilian producer Santa Terezinha," recalls Justin Kagan of Badbeard's Microroastery in Portland, Oregon. "The fruity sweet character was more forward than the caramel sweetness predominant in [other Brazilian coffees]. Think Meyer lemon and red currants."
The bean is sometimes referred to as "Brazilian Bourbon," although that's a misnomer since it also is an offshoot of Typica and is grown in other regions, such as Sumatra. However, some argue that the best Mundo Novo beans are those found in Brazil. "The Brazilians get far better consistency," Kagan says.
3 to Try
Badbeard's Brazil Daterra Estate Sweet Blue
badbeardscoffee.com, $13/lb.
Barefoot Brazil Daterra Estate Redcab
barefootcoffeeroasters.com, $13/12 oz.
Electric City Brazil Fazenda Santa Terezinha
electriccityroasting.com, $18/lb.
GESHA
Gesha (popularly spelled "Geisha") has become a cult favorite among some aficionados for its distinctively over-the-top flavor and aroma. "It can be mind-blowing, with notes of sweet lemon candy, apricot and ginger," says Howell.
Originating in southwestern Ethiopia in the small town of Gesha, this varietal was introduced to Costa Rica in the 1950s, eventually making its way south to Panama, where it flourished, thanks to an abundance of high-altitude farmland and steep hillsides.
The beguiling bean is at its best when planted at extremely high elevations (Panama's Hacienda la Esmeralda farm, for example, is located at 1,500-1,650 meters, roughly a mile above sea level). Flavor profiles tend to include sweet, bright, fruity flavors—notes of berries, citrus, mango, papaya or peach—and floral, tea-like qualities. "The flavor profile [of Hacienda la Esmeralda Special] is unmatched," says Jeff Taylor of PT's Coffee in Topeka, Kansas. "There's not another coffee out there that even comes close. It has an effervescence; it's a delicate, amazingly charismatic coffee."
3 to Try
Stumptown Panama Don Pachi
stumptowncoffee.com, $34/12 oz.
PT's Panama Hacienda La Esmeralda Special Mario Carnaval
ptscoffee.com, $55/10 oz.
Klatch Panama Hacienda La Esmeralda Special Mario Pascua
klatchroasting.com, $38/10 oz.