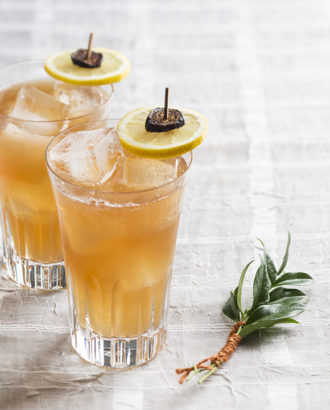 Forget the figgy pudding—our eyes are on this fig cocktail. "I tried to think of what flavors would go with the old English dessert," says bartender Jackson Holland. "Both rum and port seemed like a natural fit, and the tonic turns the drink into something spritzy that you can sip throughout a holiday gathering." Can't find dried figs? Swap in a tablespoon of fig preserves instead—just be sure to adjust the simple syrup to taste so the drink isn't too sweet.
2 dried figs, roughly chopped
¼ oz. tawny port
¼ oz. fresh lemon juice
¼ oz. simple syrup 
2 oz. aged rum
4 oz. tonic water
Tools: muddler, shaker, strainer, fine strainer
Glass: Collins
Garnish: slice of dried fig, lemon wheel
Combine the figs, port, lemon juice and simple syrup in a shaker and gently muddle. Add rum and shake with ice. Fine-strain into an ice-filled Collins glass, top with tonic and garnish.
Jackson Holland, The Cocktail Club, Charleston, South Carolina