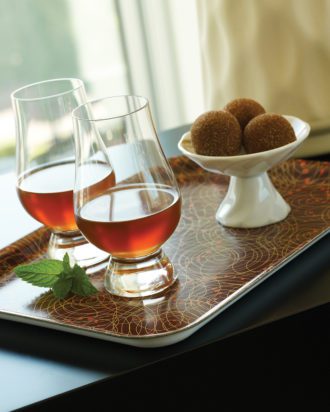 Want to show Dad some extra appreciation this Father's Day? Make him a cocktail he's sure to love.
Scotch, sweet vermouth and Benedictine never tasted so good.
Is your dad a fan of rye whiskey? Then this pre-Prohibition cocktail combining the spicy spirit with Cognac, curaçao, absinthe and bitters is sure to please.
Nothing says "I love you" like a properly made Old Fashioned—the go-to classic for Dads of all ages.
This delicious variation on a classic Daisy is a brightly balanced mix of tequila, lime juice and bell pepper.
A bourbon-based Negroni, this cocktail combines Kentucky's classic spirit with sweet vermouth and Campari for a richly complex cocktail.
Two notoriously assertive ingredients—scotch and Fernet Branca—balance each other out beautifully in this flavor-packed sipper.
For gin-drinking dads, this classic cocktail ramps up the herbal elegance of a dry Martini with touches of maraschino liqueur and absinthe.