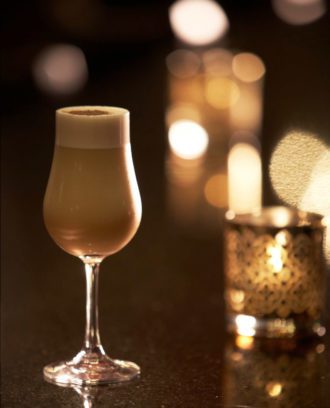 1 oz. brown ale
1 oz. cream sherry (such as Lustau Rare Cream)
1 3/4 oz. Spanish brandy
1 barspoon heavy cream
1 fresh whole egg (pasteurized if you like)
1/4 oz. cinnamon syrup (see below)
Tools: shaker, strainer
Glass: cordial
Garnish: freshly ground nutmeg
Combine all ingredients and dry shake (no ice) for 20 seconds. Add ice and shake again for 10 seconds. Strain into a chilled glass and garnish.
Cinnamon syrup: Combine 1 cup of white sugar and 4 cinnamon sticks (broken into pieces) in a saucepan and heat on medium-high until sugar dissolves, stirring frequently. Reduce heat to low and simmer for 20 minutes, stirring on occasion. Cool to room temperature, strain out the cinnamon sticks and store covered. Will keep refrigerated for up to four weeks.
Clif Travers for Bar Celona, Brooklyn, New York