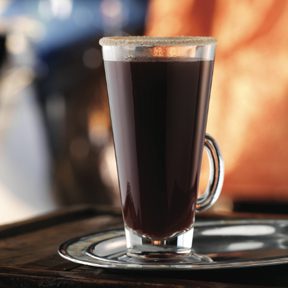 Combine mulled wine with a spiced cider and you'll get this soothing combo sure to keep you warm all winter long.
2 cups fresh apple cider
1 cup red wine
1/2 cup pomegranate juice
2 cinnamon sticks
10-15 whole cloves
Tools: small saucepan
Glass: cinnamon sugar-rimmed Irish coffee or mug (see below)
Garnish: 4-5 pomegranate seeds (optional)
Combine all ingredients in a small saucepan and bring just to a simmer over low heat. Strain into the cinnamon sugar-rimmed mug. Garnish.
To rim the glass: On a small plate combine 4 barspoons of super fine sugar with 1/4 barspoon ground cinnamon. Run a fresh lime wedge around the rim of the glass to moisten. Roll the damp rim in the sugar mixture, set aside.
Reprinted with permission from Market-Fresh Mixology by Bridget Albert and Mary Barranco. Agate Surrey, 2008.