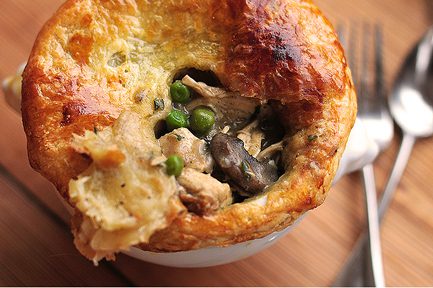 Chicken pot pie is a classic comfort food—add a splash of Cognac and you're pretty much in heaven. Best yet, the filling can be made ahead of time—just bring to room temperature and top with puff pastry before baking.
6 Tbsp. butter, salted or unsalted
1 large onion, chopped
1 ½ lbs. potatoes, peeled and cut into approx. 1″ cubes (Johnson uses new potatoes)
1 lb. (about 6 medium) carrots, cut into approx. 1″ pieces
10-12 oz. mushrooms, sliced
½ cup Cognac
6 Tbsp. all-purpose flour
2 cups chicken stock
1 cup milk
5 cups chicken, cooked and cubed
1 cup fresh or frozen green peas
5 tsp. dried parsley
2 ½ tsp. dried thyme
½ tsp. dried sage
3 tsp. salt
1 tsp. black pepper
1 sheet frozen puff pasty, thawed
1 egg yolk + 1 teaspoon water for egg wash
Extra salt and pepper to taste.
Preheat oven to 425°F.
In a stock pot or dutch oven, melt the butter over medium-high heat. Add onion, potatoes, carrots, mushrooms, and a few pinches of salt and pepper; cook, stirring occasionally, until tender; about 10-12 minutes. Add Cognac, stir in flour and cook for about 1 minute until combined well.
Add chicken stock and milk. Stir to combine and bring to a simmer for about 2 minutes, stirring until mixture thickens. Add chicken, peas, parsley, thyme, sage, salt and pepper, and combine well. Transfer mixture to preferred serving vessel. Or if preparing ahead, let cool and refrigerate to re-heat later.
When ready to bake, whisk together the egg yolk and 1 teaspoon of water.
Cut thawed puff pasty 1″ larger in diameter than the chosen serving dish/vessel, and cut out a ½-1″ hole in center for venting. Center cut puff pastry over dish and crimp down around edge of dish to seal.
Brush top of pastry with egg wash.
Bake in 425°F oven on baking sheet for 10 minutes, then cover lightly with aluminum foil and continue baking for another 20-25 minutes.
Serves 8.
Amy Johnson, shewearsmanyhats.com