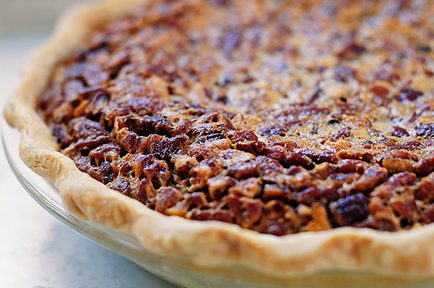 Just when we thought pecan pie couldn't get any better, food blogger Amy Johnson went and added bourbon.
1 9-inch prepared piecrust (do not pre-bake)
3 large eggs
¾ cup light corn syrup
4 Tbsp. unsalted butter, melted
¾ cup light brown sugar, firmly packed
2 Tbsp. bourbon
2 Tbsp. all-purpose flour
1 Tbsp. vanilla extract
1 ¼ cup pecans, chopped
½ cup chocolate chips
Preheat oven to 425°F.
In a large bowl mix together eggs, corn syrup, butter, light brown sugar, bourbon, flour and vanilla until well combined.
Add the chopped pecans and chocolate chips, stir well, and pour into prepared piecrust.
Bake pie on the bottom rack at 425°F for 15 minutes.
After 15 minutes reduce heat to 350°F and bake for another 45 minutes.
Let pie cool for at least 1 hour.
Amy Johnson, shewearsmanyhats.com