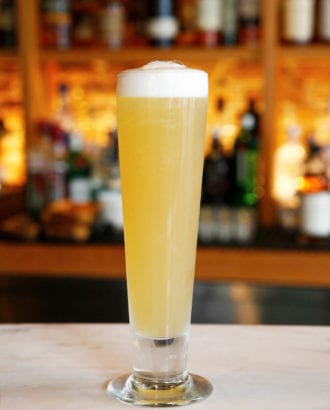 This fall-flavored cocktail fuses a double dose of apple with a white ale for a sublime autumnal sipper.
¾ oz. apple-infused applejack
¾ oz. ginger-cider syrup
¾ oz. lemon juice
2 oz. ginger ale
White ale (Smith-Mattsson uses Blanche de Bruxelles)
Tools: barspoon
Glass: pilsner
In a chilled glass, combine all ingredients, except beer, and stir to combine. Top with white ale.
Apple-infused applejack: Infuse 3 chopped apples with 1 750-ml. bottle of applejack for 2 days. Strain into a glass jar before using.
Ginger-cider syrup: Combine 3 oz. fresh apple cider, 1 oz. fresh ginger juice and 2 oz. sugar in a saucepan and bring to a simmer for 5 minutes. Let cool to room temperature, strain into a glass bottle and keep refrigerated for up to 1 month.
Martim Smith-Mattsson, Woodland, Brooklyn, New York