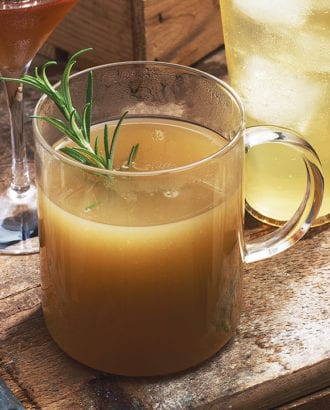 Grapefruit juice acts as a counterpoint in this otherwise sweet grog, made with unfiltered cider, applejack and honey.
1 oz. fresh grapefruit juice
2 oz. fresh-pressed apple cider
1 sprig fresh rosemary
1 oz. applejack
1 oz. bison grass vodka
1 tsp. honey (or to taste)
Tools: saucepan
Glass: mug
Garnish: rosemary sprig
In a small saucepan, heat the grapefruit juice, cider and rosemary sprig until hot. Remove from heat, then add applejack, vodka and honey. Remove rosemary, pour into a mug and garnish.
John Ginnetti and Jason Adams for 116 Crown, New Haven, Connecticut