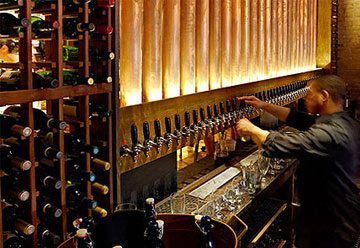 While the cocktails in Washington, D.C. are garnering buzz these days, don't forget that this city has long been a great beer town, and it's only getting better. Back in 1957, the venerable Brickskeller opened with a menu that included dozens of beers from around the world—now the menu boasts more than 1,000 brews. Since then, D.C. has become home to other bars and restaurants just as passionate about beer, from Belgian-centric Granville Moore's to The Hunt, with its three floors of sudsy goodness. In a city where even a bookstore has 18 taps, it's clear that there's no dearth of places pouring great pints. Here are our picks for the best D.C. has to offer.
Biergarten House
1355 H St. NE, 202-388-4053
What better way to wash down authentic German food than with authentic German beer? Though the beer list is just 12 taps and 14 bottles long, it's steadfastly German with the likes of schwarzbiers, doppelbocks, pilsners and lagers.
The Big Hunt
1345 Connecticut Ave. NW, 202-785-2333
With 27 taps, it's pretty easy to hunt down a delicious craft brew at The Big Hunt. Most beers at this three-level pub are American microbrews, including three house beers, with a smattering of well-chosen imports.
Birreria Paradiso
Locations in Georgetown, Dupont Circle and Old Town Alexandria
Pizzeria Paradiso first made its name with its commitment to stellar wood-fired pizza, but it's become just as renowned for its devotion to craft beer, turning the bottom floor of its three locations into a beer-lover's paradise, with 16 selections on draught, one cask ale and 200 kinds of bottled beer.
Black Squirrel
2427 18th St. NW, 202-232-1011
This cozy, brick-walled gastropub offers 100 beers from the U.S. and beyond. Though most are in bottles, there are 11 taps, half of which are dedicated to European beers, plus two beers brewed exclusively for the pub and three beer cocktails.
Brasserie Beck
1101 K St. NW, 202-408-1717
Though you wouldn't pop into this upscale restaurant just for a pint, it's perfect for those with a taste for fine Belgian beers paired with fine food. In addition to the 11 Belgians on draught, there are almost 100 bottled beers, each organized according to style, with a small section offering beers from France, Germany and the States.
The Brickskeller
1523 22nd St. NW, 202-293-1885
Though this 57-year-old granddaddy of D.C. pubs has just 12 taps, it's mind-boggling array of bottled beers keeps beer geeks flocking here in droves. The bottled beer list includes more than 1,000 varieties from all over the world, including aged beers. And cask beers are served on the top floor.
Capitol City Brewing Company
Three locations: Downtown, Capitol Hill, Arlington
Opened in 1992, Capitol City is D.C's first brewpub since prohibition. You'll find four core brews always on tap, plus three to four seasonals.
ChurchKey/Birch & Barley
1337 14th St. NW, 202-567-2576
ChurchKey is a veritable temple of beer located upstairs from Birch & Barley restaurant (pictured above). The beer menu, devised by Greg Engert, offers 50 draughts, five cask ales and 500 bottles. To make it easy to find what you're craving, beers are organized by style, like "tart & funky" or "smoke." And to encourage experimentation, they can be ordered in 4-ounce pours.
CommonWealth Gastropub
1400 Irving St. NW, 202-265-1400
In keeping with its name, beers at this English-centric pub hail from the UK and the four commonwealths of the U.S.—Kentucky, Pennsylvania, Virginia, Massachusetts. Draughts are heavy on English imports, and beers can be ordered by the flight, half-pint, U.S. pint or 20-ounce British pint.
District ChopHouse and Brewery
509 7th St. NW, 202-347-3434
Most of the time, breweries serve the same ole pub grub. But this brewery also doubles as a classic steakhouse, so you can dine on filet rather than jalapeño poppers (not that we don't love a good pepper popper). The selection of eight beers includes lagers and ambers, as well as a bourbon stout aged in Woodford Reserve barrels.
Granville Moore's
1238 H Street NE, 202-399-2546
This haven of Belgian food and beer goes through 1,200 pounds of mussels and 1,400 pounds of potatoes each week. To wash down all those moules and frites, you'll find 60 Belgian beers by the bottle and six on draught, arranged by style to encourage diners to sample something new.
Kramerbooks Afterwords Café
1517 Connecticut Ave. NW, 202-232-6777
Coffee shops within bookstores are nothing new, but beer bars? Not so common. After browsing the aisles you can take a load off in the café and order from one of the 18 draught beers, including Brooklyn, Rogue, Bellhaven and Allagash.
The Reef
2446 18th St. NW, 202-518-3800
Aiming to avoid the waste of a glass bottle, this eco-conscious restaurant serves only draught beers, with 14 taps to choose from. You'll likely find offerings from Boulder Brewing and Anderson Valley, as well as at least four Belgians.
RFD
810 7th St. NW, 202-289-2030
This younger sister to the Brickskeller may not have every beer known to man, but with 30 taps, one cask and 300 bottles, it's pretty darn close. The food menu is just as beer-oriented, with dishes like mussels steamed in Hoegardden Witbier and chicken braised in Anchor Steam.
OUTSIDE THE CITY
3 Bar and Grill
2950 Clarendon Blvd., Arlington, Va., 703-524-4440
Although it looks like a typical bar and grill, this restaurant's beer list is anything but ordinary. Joining the small but well-chosen draught menu, which includes Allagash, Bell's and Dogfish, are almost 50 excellent bottles organized by regions of the U.S., plus about two dozen imports.
Galaxy Hut
2711 Wilson Blvd., Arlington, VA, 703-525-8646
There's no hooch at this funky little dive, just an impressive array of beers–20 taps and 30 bottles of craft and imported brews from the likes of Flying Dog, The Bruery, North Coast and Green Flash. Complementing all that good beer is a collection of old-school pinball and video games to help you while away the night.
Lost Dog Café
5876 Washington Blvd., Arlington, VA, 703-237-1552 & 2920 Columbia Pike, Arlington, Va., 703-553-7770
You wouldn't expect a suburban café heavily devoted to animal adoption to put much effort into its drink list. And yet, the menu at Lost Dog features hundreds of bottles and 12 taps of craft beer from all over the world.
Lyon Hall
3100 N. Washington Blvd., Arlington, VA 703-741-7636
The food at this French Brasserie often veers into Germanic territory, and its beer menu goes right along with it, with 20 draughts and nearly 50 bottles dominated by German and Belgian offerings.
Rustico
827 Slaters Lane, Alexandria, Va., 703-224-5051
You may know Greg Engert's name from ChurchKey, but he's been at Rustico— ChurchKey's sister restaurant—for much longer. He's the force behind the restaurant's 30 taps and two giant coolers of more than 300 different beers.
Shenandoah Brewing Company
652 S. Pickett St., Alexandria, Va., 703-823-9508
Homebrewing hopefuls who don't have the space for equipment can use Shenandoah's facilities to make their own beer. Afterward, sit back and enjoy one of the brewery's nine beers on tap.