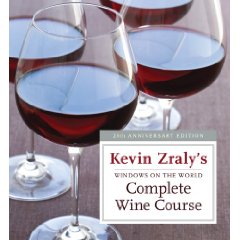 If you can't tell your right bank Bordeaux from your left, you need a lesson from Kevin Zraly, founder of the New York-based Windows on the World wine school, from which more than 19,000 people have graduated since its inception 33 years ago. Zraly's book, Windows on the World Complete Wine Course (Sterling Publishing), has sold more than 3 million copies, and just a few weeks ago, the much-anticipated and thoroughly updated 25th anniversary edition was released. Written in Zraly's affable style, this book is organized in eight different "classes" covering everything from grape varietal basics to master lessons in taste and perception and is a must-read for anyone interested in learning more about wine.
And now, one lucky reader can win a signed, hardback copy of this anniversary edition—simply email us with the name of your all-time favorite wine by noon PST this Friday, October 30, and we'll choose one winner at random to be announced this coming Monday, 11/2.
Thirsty for more free stuff? Sign up for Imbibe's monthly e-newsletter, which offers an in-between issues look at the world of liquid culture with recipes, stories and great giveaways like festival tickets, glassware, gadgets and more. Best of all, when you join, you get our PDF guide to the 100 best places to drink beer in America right away—free!