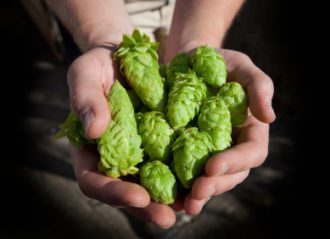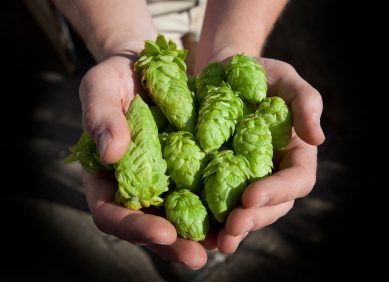 Christmas comes early each year for hop-headed beer drinkers—specifically in fall, when fresh, resinous hops are ripe and ready for harvest. For a short window of time starting anywhere from late August to mid-September, brewers rush to get whole, fresh hops straight from the field to the brew kettle—some literally overnighting freshly picked hops to the brewery via charter plane to begin the brewing process within hours of picking (other brewers simply opt to grow their own hops). These fresh-hop (also called wet-hop) beers are so hyper-seasonal that most kegs are emptied as quickly as the hops come off the bines. We highlight five bottled fresh-hop beers in our September/October 2013 issue, but plenty of others don't leave the brewpub in which they're born. Here are five fleeting, draft-only favorites.
Ballast Point Schooner Ale With Wet Hops
San Diego's Ballast Point lets one single hop variety shine in its annual fresh-hop brew—grassy, vegetal Cascade hops grown in Yakima, Washington, are picked, shipped and put into the brew within 36 hours of reaching ripeness. Find it exclusively at the brewpub and its sister site, the Home Brew Mart.
Blue Mountain Brewery Harvest Celebration Ale
Afton, Virigina's Blue Mountain Brewery enlists a community of local beer-lovers to help harvest Cascade and Centennial hops homegrown on its own hop farm. The first 100 pounds of Cascade make it into a single barrel of celebratory beer, served on draft at the brewery.
Deschutes Fresh Hop Draft Series
This year, Oregon's beloved Deschutes plans to brew not one, not two, but 10(!) fresh-hop beers. Two will make it into bottle (Hop Trip and Chasin' Freshies), but for the other eight, you'll have to visit either the main brewery or one of their two satellite pubs for a taste.
Dogfish Head Wet Hop American Summer
Fifty pounds of wet hops—flown fresh from Washington State all the way to Delaware—make their way to the brew kettle for this annual fresh-hop favorite from Dogfish Head. It's in such limited supply that the brewpub doesn't even allow growler fills, so best belly up to the bar for a pint as soon as it hits the taps.
Left Hand Warrior Fresh Hop IPA
Talk about a quick turnaround! Within 24 hours of reaching optimum ripeness, fresh, whole hops are plucked from the bines at Rising Sun Farms in western Colorado, flown in to Lefthand's Longmont brewery and shuttled into the kettle for the brewery's hyper-seasonal fresh-hop IPA.