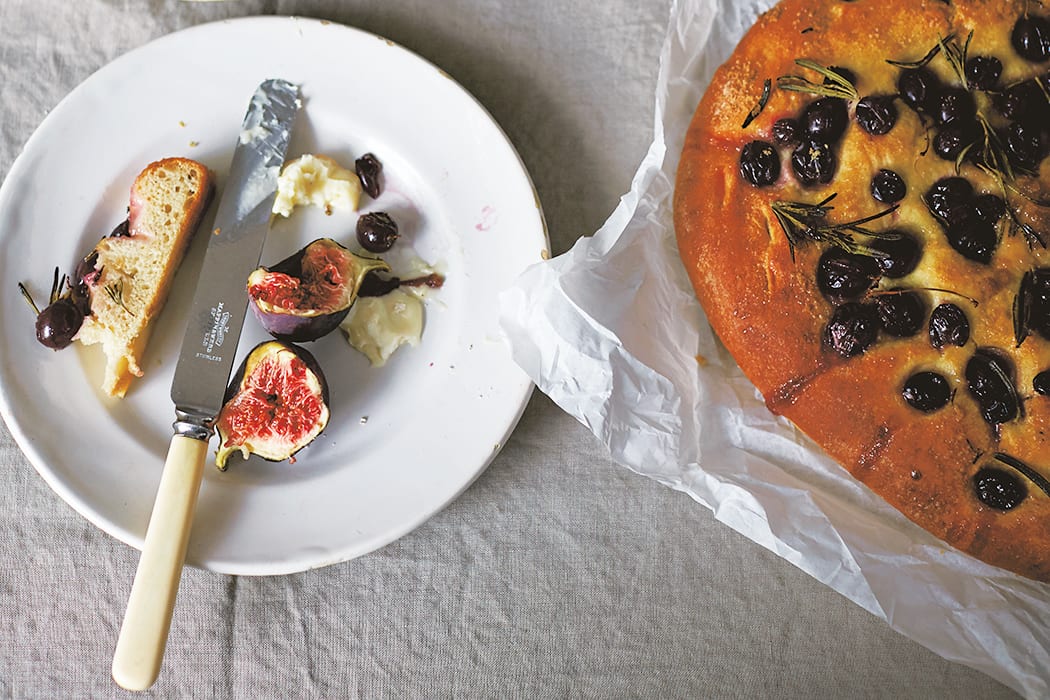 In this autumnal Tuscan grape bread recipe, plump red grapes soak up the goodness of Marsala wine.
2 tsp. active dry yeast
2 Tbsp. superfine sugar
1¼ cups lukewarm water
4 cups white bread flour, plus more to dust
1 tsp. sea salt flakes
¼ cup extra virgin olive oil, plus more to handle the dough
Semolina, to dust
¼ cup dark raisins
½ cup Marsala
1 lb. 2 oz. seedless red grapes
8 rosemary or thyme sprigs
1 Tbsp. soft light brown sugar
Taleggio, Gorgonzola, or Fontina, and other strong Italian cheeses, to serve
Put the yeast into a small bowl with 1 teaspoon of the superfine sugar and a couple of tablespoons of the water. Stir, then let stand somewhere warm to froth for 15 minutes or so.
Put the flour into a bowl with the salt and the remaining superfine sugar and make a well in the middle. Pour the yeast mixture into this and start to mix in the surrounding flour. Gradually add the rest of the water, or as much as you need to make a soft, rather wet dough. When it has come together, knead it for 10 minutes. Put into a lightly oiled bowl, turn to coat the dough with a film of oil, then cover the bowl with plastic wrap. Let stand somewhere warm to rise for a couple of hours. It should double in size.
Punch down the dough by kneading it a little on a lightly floured surface. Shape into a disk measuring about 9 inches across. Put on a baking pan dusted with semolina and let proof for 30 minutes. Preheat the oven to 350°F.
Put the raisins and Marsala in a small saucepan and bring to a boil, then take the pan off the heat, and leave the raisins to plump up. They should absorb all the liquid.
Press the whole grapes into the dough and scatter with the rosemary or thyme (use a mixture of leaves and stems with leaves still attached). Sprinkle with the brown sugar and drizzle with the ¼ cup of extra virgin olive oil. Put it in the oven and bake for 45 minutes, or until the bread is cooked (if you lever it off the baking pan and tap it underneath, it should sound slightly hollow). When there are just 10 minutes left before the end of cooking time, spoon the raisins evenly over the top of the bread, too.
Let the loaf cool slightly and serve warm, or at room temperature, with cheese. Serves 8.
Reprinted from How to Eat a Peach: Menus, Stories, and Places. Copyright 2018, by Diana Henry. Published by Mitchell Beazley.
---
Did you enjoy this recipe? Sign up for our newsletter and get our favorite drink recipes of the moment in your inbox every month.