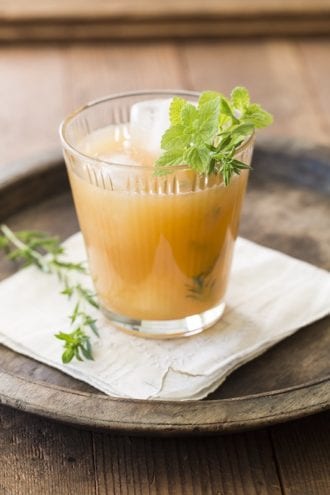 A favorite among gardeners for their bountiful yields and unmistakable flavor, Early Girl tomatoes add a sweet, earthy complexity to this Arnold Palmer riff from Trick Dog in San Francisco.
2 oz. tomato-ceylon syrup
2 oz. fresh lemon juice
4 oz. water
Tools: barspoon
Glass: highball
Garnish: fresh herbs
Add all the ingredients to a glass and stir to incorporate. Top with ice and garnish.
Tomato Ceylon Syrup
1 oz. Ceylon tea leaves
4 cups hot water
4 cups sugar
1 lb. Early Girl tomatoes, cored and chopped
Steep the tea in the hot water for 30 minutes and strain. Add the sugar and stir until dissolved. When cooled, add syrup and tomatoes to a blender, working in batches if necessary, and blend until smooth. Strain through a cheesecloth-lined strainer.
Morgan Schick, Trick Dog, San Francisco