We're counting down just a few more days until it's time for the 2009 Mixmaster Competition at the Great American Distillers Festival. We look forward to this competition every year, because it always brings together a terrific group of bartenders and judges. Held in conjunction with the GADF this coming weekend, this competition will have 24 bartenders going head to head for a grand prize of $1,000 sponsored by House Spirits. Each competitor will have to make a signature cocktail using a base spirit from the festival, and then four competitors will go on to a final round where they'll be presented with a secret ingredient that they must use to create a final recipe. Judges include Imbibe publisher Karen Foley, The Cocktail Spirit star Robert Hess, bartenders Lucy Brennan and Neyah White, cocktail bloggers Charles and Ted Munat, and more.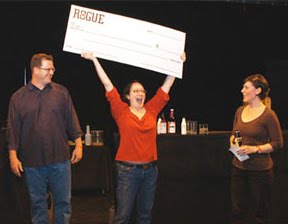 We're so excited to see this year's outcome. Will the talented Suzanne Allard recoup her crown from 2007? Will there be any surprising upsets? If you'll be in Portland this weekend, come on down to the competition and see the results for yourself, and while you're at it, sample some delicious artisan spirits from around the country at the Distillers Festival. Entry to the competition is free with the purchase of a ticket to the festival. Admission is $10 for one day and includes three taster tickets, or a two-day pass is $16 and includes six taster tickets. You can purchase tickets onsite.
For a list of times, competitors and judges, check out the Oregon Bartenders Guild website here.
What: Mixmaster Competition at the Great American Distillers Festival
Where: Bossanova Ballroom, 722 E Burnside, Portland, OR
When: Saturday, October 24–Sunday, October 25