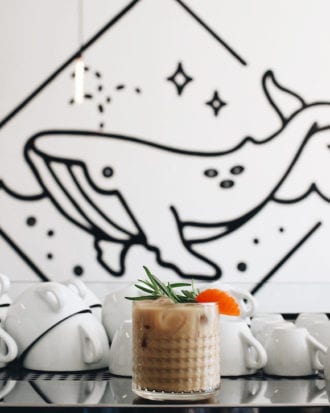 San Diego's Scrimshaw Coffee first caught our eye with their cheery nautical mascot, Verne (more on the branding and design here), but they also stand out for their creative coffee drinks. In this recipe, orange juice and rosemary brighten up an iced latte.
1½ oz. Tahoe Gold syrup
5 oz. whole milk
1¼ oz. espresso
3-4 large ice cubes
Glass: 10 oz. rocks glass
Garnish: orange wedge, fresh rosemary sprig
Add ice to a glass, followed by Tahoe Gold syrup and milk. Pour freshly pulled espresso over the top, then stir to combine. Garnish.
Tahoe Gold Syrup: In a saucepan, bring 1 cup of fresh orange juice, 1 cup of water and 2 cups of white sugar to a simmer, cooking until the sugar is dissolved. Remove the syrup from the heat and add 2 large rosemary sprigs, making sure they're fully submerged. Allow the rosemary to steep in the syrup for 40-45 minutes, or longer for a stronger rosemary flavor. Strain the syrup and allow it to cool before using. Keep refrigerated for up to 2 weeks.
Will Remsbottom, Scrimshaw Coffee, San Diego
---
Did you enjoy this recipe? Sign up for our newsletter and get our favorite drink recipes of the moment in your inbox every month.