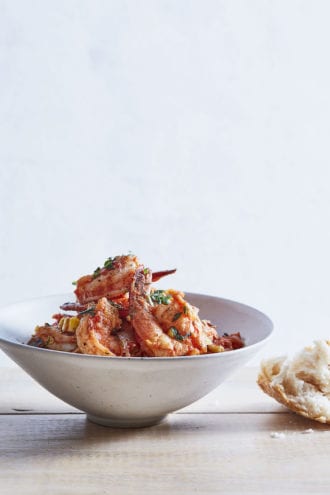 In her new Italian cookbook Piatti, Stacy Adimando, executive editor of Saveur, explains that traditional fra diavolo sauce may actually be an Italian-American invention that migrated backward to Italy. Regardless, this fresh and spicy tomato sauce—cooked down with a healthy pour of dry white wine—is magic tossed with sautéed shrimp. Adimando likes it extra spicy, noting, "That's what chilled wine is for."
18 extra-large shrimp, shelled and deveined, tails on if desired
Kosher salt
Freshly ground black pepper
2 Tbsp. extra-virgin olive oil
1 bacon slice or pancetta slice (1 to 2 oz.), finely chopped
½ medium yellow onion, finely chopped (about ½ cup plus 2 Tbsp.)
4 garlic cloves, minced
1 cup dry white wine
1 cup canned crushed tomatoes and their juices
1 cup quartered fresh yellow or red cherry tomatoes
1 tsp. finely chopped fresh basil leaves, plus more for serving
¼ tsp. chili flakes, plus more as desired
½ cup fresh corn kernels
Crusty bread, for serving
Season the shrimp lightly with salt and pepper. In a medium saucepan over medium-high heat, heat the olive oil. Once hot, add the shrimp. Cook, turning as needed, until lightly seared and just cooked through, 3 to 5 min­utes total. Transfer to a plate and reserve.
Add the bacon to the hot pan. Cook, stirring, until crispy, about 3 minutes. Add the onion and season lightly with salt. Cook, stirring occasionally, until softened, 2 minutes. Stir in the garlic and cook until fragrant, about 1 minute more. Add the wine and cook until reduced by about half, about 4 minutes. Add the crushed tomatoes and cherry tomatoes, the basil, chili flakes, and a pinch each of salt and pepper. Bring to a low simmer. Lower the heat to maintain a low simmer and cook, stirring occasionally, until a thick sauce forms and the cherry tomatoes begin to soften, about 12 minutes. Stir in the corn and cook for 30 seconds. Add the shrimp back to the pan and stir to coat with the sauce.
Transfer to a serving dish and garnish with more basil and more chili, if desired. Serve with crusty bread.
Reprinted with permission from Piatti by Stacy Adimando with permission by Chronicle Books, copyright 2019.
---
Did you enjoy this recipe? Sign up for our newsletter and get our favorite drink recipes of the moment in your inbox every month.