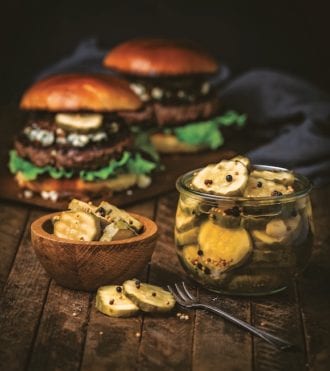 This pickle recipe from the Cork and Knife cookbook by Emily and Matt Clifton, founders of Nerds with Knives, adds rye whiskey to crispy pickle slices for an extra kick of flavor. "Rye is a little spicier than bourbon, and it gives the pickles another level of complexity which will intensify the longer they sit," they note. Perfect for your next burger or Bloody Mary.
3–4 cucumbers (Cork and Knife recommends Kirby), thinly sliced in rounds, ends discarded
1 cup water
1 cup white or apple cider vinegar
½ cup rye whiskey (or bourbon)
2 Tbsp. maple syrup
¾ Tbsp. kosher salt
¼ tsp. red pepper flakes
2 medium cloves garlic, roughly sliced
2 tsp. whole black peppercorns
2 tsp. yellow mustard seeds
1 tsp. coriander seeds
2 sprigs fresh dill
Place the cucumber slices in a medium heatproof bowl. In a saucepan over high heat, heat the water, vinegar, whisky, maple syrup, salt, red pepper flakes, garlic, black peppercorns, mustard seeds, coriander seeds and dill until it comes to a simmer and the salt has dissolved, 3 to 4 minutes. Turn off the heat, and pour the hot brine over the cucumbers. Cover the bowl with plastic wrap, and leave on the counter for at least 30 minutes before serving. Pickles can be stored in their brine in a sealed container in the refrigerator for up to a month, or indefinitely if canned. Makes approximately 1 pint.
Reprinted with permission from Cork and Knife: Build Complex Flavors with Bourbon, Wine, Beer and More by Emily and Matt Clifton, Page Street Publishing Co. 2019.
---
Did you enjoy this recipe? Sign up for our newsletter and get weekly recipes and articles in your inbox.