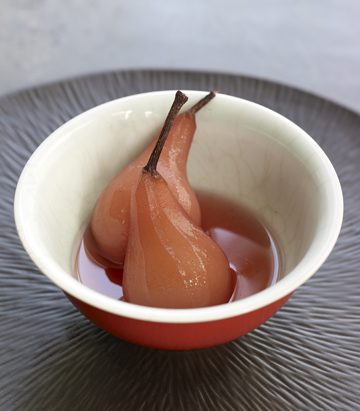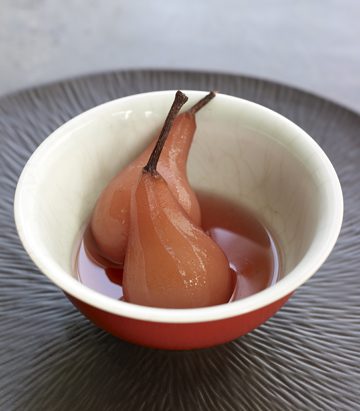 This recipe from The Craft of Baking makes for a simple yet delicious dessert. Author Karen DeMasco favors small, firm pears and a dry rosé, such as those from Italy or Southern France. "I love using rosé to poach pears because its lighter-tasting than red wine or Port, yet still bold and flavorful—and it gives the pears a beautiful pink hue," she says. "A nice touch is to use a sparkling rosé to add effervescence to the poaching liquid. Add a few splashes right before serving to bring back the sparkle."
3 medium or 6 small ripe pears
1 ½ cups sugar
1 cup water
1 (750 ml.) bottle dry rosé wine
¼ vanilla bean
Prepare an ice bath in a large bowl, and set it aside.
Peel and halve the pears. Scoop out the cores with a melon baller or a measuring spoon.
In a large saucepan, whisk together the sugar, the water, the wine and the vanilla bean (including seeds), and bring to a boil. Transfer about one third of this poaching liquid to a metal bowl and set the bowl into the ice bath.
Add the pears to the saucepan with the remaining poaching liquid, cut side up, in one layer, in batches if necessary, and reduce the heat to a gentle simmer. Cut out a round piece of parchment paper and place it over the surface of the poaching liquid. Simmer until the pears become translucent and tender (a knife should slide easily into a pear), about 15 minutes.
As they are done, use a slotted spoon to transfer the poached pears to the cooled poaching liquid. When all of the pears have been poached, pour the liquid from the saucepan over them and let the mixture cool, adding more ice to the ice bath if necessary. Serve the pears cold or at room temperature, with a little bit of the poaching liquid. Serves 6.
Reprinted with permission from The Craft of Baking by Karen DeMasco and Mindy Fox. Published by Clarkson Potter.