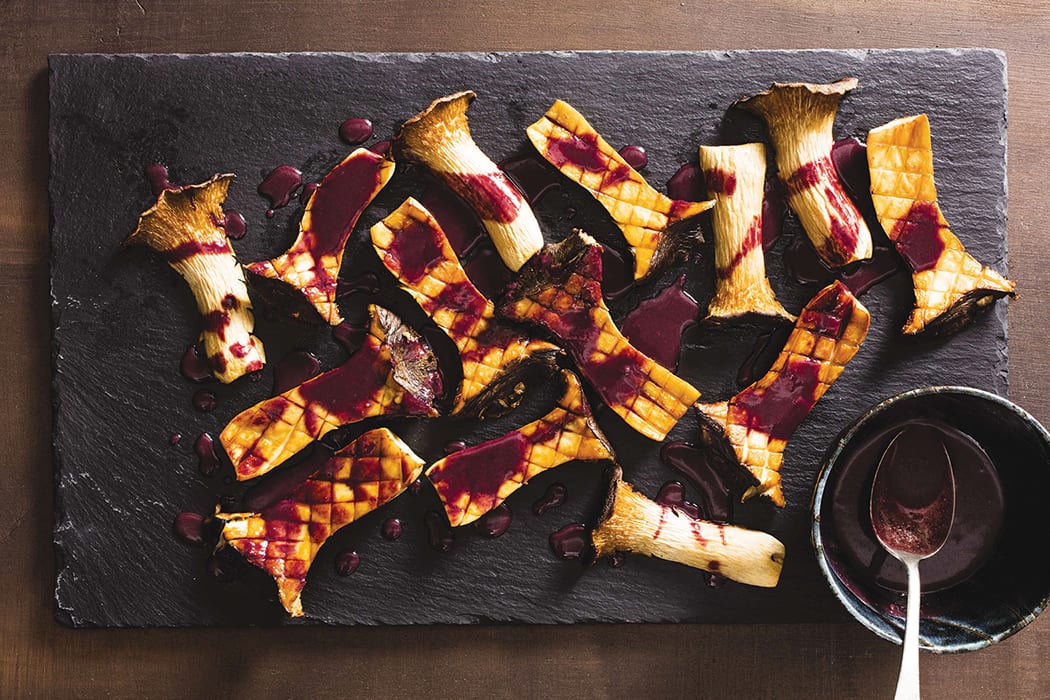 King trumpet mushrooms, also called king oyster or French horn mushrooms, have small caps and fat, bulbous stems. A variety native to the Mediterranean, Middle East and North Africa, they have very little flavor when eaten raw, but roast them in the oven and the mushrooms take on a rich, savory flavor and delightfully tender texture. This simple recipe from Cook's Illustrated and America's Test Kitchen in the new Vegetables Illustrated cookbook keeps the mushrooms on the main stage, while a red wine–miso sauce highlights the earthy, umami flavors.
1¾ lb. king trumpet mushrooms
4 Tbsp. unsalted butter, melted
Salt and pepper
Lemon wedges
Adjust oven rack to lowest position and heat oven to 500 degrees. Trim the bottom ½ inch off the mushroom stems, then halve mushrooms lengthwise. Cut thin slits on the cut side of the mushrooms, spaced ½ inch apart, in a crosshatch pattern. Sprinkle the cut side of the mushrooms with ½ teaspoon of salt and let sit for 15 minutes.
Brush the mushrooms evenly with melted butter, season with pepper to taste, and arrange cut side down on a rimmed baking sheet. Roast until the mushrooms are browned on the cut side, 20 to 24 minutes. Transfer to a serving platter, and serve with lemon wedges and the Red Wine–Miso Sauce.
Red Wine–Miso Sauce
Bring 1 cup of dry red wine, 1 cup of vegetable broth, 2 teaspoons of sugar and ½ teaspoon of soy sauce to a simmer in a 10-inch skillet over medium heat. Cook until reduced to about ⅓ cup, 20 to 25 minutes. Remove from the heat, and whisk in 1 tablespoon of unsalted butter and 5 teaspoons of miso until smooth.
Recipe reprinted with permission from Vegetables Illustrated: An Inspiring Guide with 700+ Kitchen-Tested Recipes. Copyright 2019 by America's Test Kitchen.
---
Did you enjoy this recipe? Sign up for our newsletter and get weekly recipes and articles in your inbox.