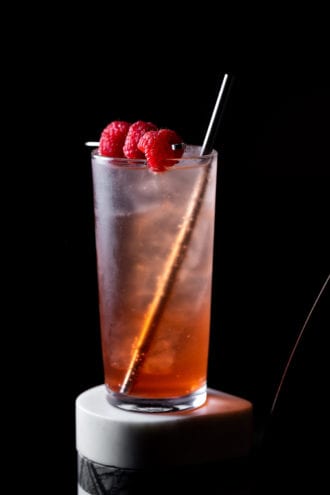 From the alcohol-free section of Bibo Ergo Sum's cocktail menu, this tart shrub uses balsamic vinegar and pandan—a leaf from Southeast Asia with a flavor that's sometimes compared to vanilla—to bring richness to the mix. At the bar, they use a sous-vide method for the syrups, but simplified specs are listed below for at-home mixing.
1 ¼ oz. raspberry syrup
½ oz. pandan syrup
2 tsp. apple cider vinegar
½ tsp. balsamic vinegar
2 drops saline solution (30% salt:70% warm water)
Seltzer, to top
Tools: barspoon
Glass: Collins
Garnish: 3 raspberries on a cocktail pick
Combine ingredients (except seltzer) in a Collins glass and add ice. Stir with a barspoon to combine. Top with seltzer and garnish.
Raspberry Syrup: Combine equal parts, by weight, muddled raspberry and white granulated sugar. Let sit for 24 hours. Strain before use. Store in the refrigerator for up to 2 weeks.
Pandan Syrup: Bring 2 cups of simple syrup (1:1) to a just under a boil. Add ½ cup of chopped pandan leaves and let steep for 30 minutes. Fine strain the leaves out of syrup before use. Store in the refrigerator for up to 2 weeks.
Daniel Zacharczuk, Bibo Ergo Sum, Los Angeles
---
Did you enjoy this recipe? Sign up for our newsletter and get our favorite drink recipes of the moment in your inbox every month.