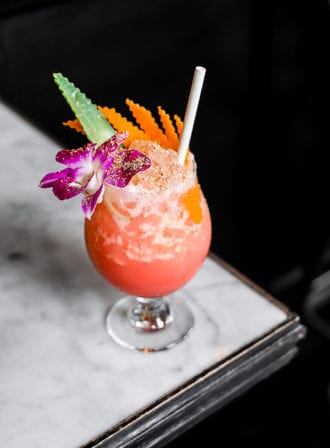 As the booze-free craze rages on, more and more bartenders are putting zero-proof spins on classic cocktails, and the results are often delicious. Take this N/A Painkiller from Wright & Company in Detroit. It skips the rum and adds raspberry and lime to a mix of pineapple juice, orange juice and coconut cream, all shaken and served over crushed ice for an ultra-refreshing taste of summer.
1 oz. pineapple juice
¾ oz. orange juice
½ oz. fresh lime juice
¾ oz. coconut cream
¼ oz. raspberry syrup
Tools: shaker
Glass: tulip
Garnish: edible flower, pineapple leaf, orange peel
Combine all the ingredients in a shaker with pebble or crushed ice, shake to chill, then pour the contents into a glass. Garnish.
Raspberry Syrup: Combine 1 cup of raspberry juice with ¾ cup of white sugar and shake to dissolve.
Wright & Company, Detroit
---
Did you enjoy this recipe? Sign up for our newsletter and get our favorite drink recipes of the moment in your inbox every month.