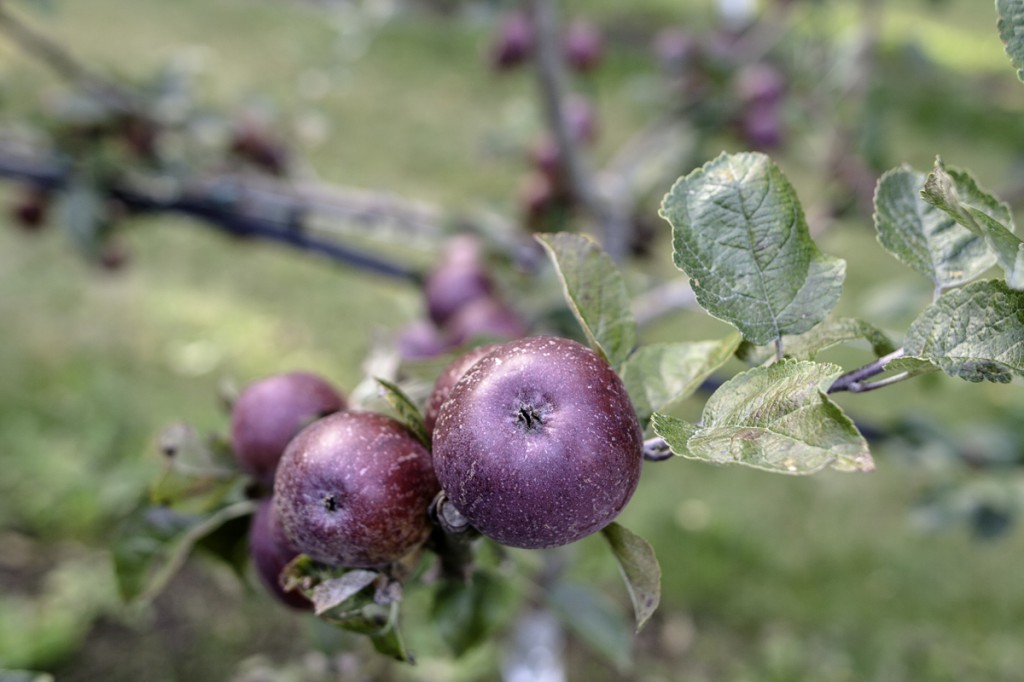 Cider has become the latest category to take the drinks world by storm, and Dave White is helping to lead the charge. One of our 2014 Imbibe 75 People to Watch, White—who oversees the Northwest Cider Association and runs Whitewood Cider in Olympia, Washington—recently chatted with us about making world-class cider in the Pacific Northwest. His secret? It all comes down to the apples. 
Imbibe: What types of apples do you use in your ciders?
David White: We're very picky about the apples we use to make cider at Whitewood. Heritage or heirloom fruits and vegetables are simply old cultivars. In our blends we use both heirloom varieties and traditional European cider varieties, which, by definition, are heirloom fruits. The American heirloom apples we commonly use are Jonathans, McIntosh, Gravenstein, Winesap, Esopus Spitzenburg, Liberty, and a few others although not in large percentages. Most of these apples are American varieties, except for the Gravenstein, which is historically a Danish apple that's been popular on the West Coast since the 19th century. Some of the traditional cider varieties we have been lucky enough to use are Yarlington Mill, Kingston Black, Dabinett, Brown Snout, Porter's Perfection, Golden Russet and Stoke Red, all of which are English varieties by origin although many French varieties are very popular with American cider makers too.
Imbibe:  Why use heirloom varieties?
DW: We prefer heirloom apples over common apples based on flavor. Most of these varieties survived and were propagated over the years because they found favor as cooking apples, eating apples or drinking apples, and in some cases all of the above. Heirloom apples tend to possess richer characteristics, like acidity, fruitiness, spiciness, earthiness, some tannins and astringency. Not all varieties maintain the same flavors or balance of characteristics, but that is where the art of blending takes over. It's up to the cider makers to blend these fruits and flavors into a concoction that suits them and hopefully their drinkers enjoy it too.
Imbibe: How do cider apples differ from eating apples?
DW: Traditional cider apples are not the sort apples you'll find in a lunch box or on the kitchen table. These apples have been grown over the years with the sole purpose of becoming alcohol. Just as it's difficult to make great wines with table grapes, the best ciders come from cider apples. Traditional cider apples commonly fall into two categories: bittersweet and bittersharp. The "bitter" denotes apple tannin, a rare characteristic not commonly found in popular apples and the sweet/sharp describes the amount of acidity. These tannins make these apples unsuitable eating for most and many folks affectionately refer to these as "spitters". But if you can get past the astringency, you'll find these varieties also rich flavors and the overall complexity can help produce the best ciders. Some of these varieties can be fermented and drank and enjoyed as delicious single varietals although most cider makers believe that experienced blending does an even better job.
Imbibe: How do the different apples work in terms of flavor profiles and how do you choose which apples to use?
DW: I believe everything grown has it's own terroir. What that means to the American cider regions remains to be seen. Beyond terroir each apple has its own personality traits and balance of flavors. At Whitewood we tend to prefer lush, fruit-forward characteristics followed by a sharp acidity for a clean finish. When you ferment apples, much of the original intensity of fruit flavor either transforms or can be lost, so it really helps to start out using apples with as much concentrated flavor as possible and the traditional cider varieties provide ample flavor. That's why they've been selected, propagated and sought after throughout cider making history.
Imbibe: Where are these varietals and cider apples grown?
DW: Washington State grows more apples than anyone in the United States. Sadly, the overwhelming majority of the apples grown here are the same apples that you find in the grocery store. Most of these apples, like the Red Delicious, possess sweetness but aren't all that complex. Apples of that sort don't make great cider. Traditional cider varieties are now being grown in the Northwest in ever-increasing numbers, however, the quantities are not nearly enough to quench the thirst of our region's cider makers. Part of our mission at the Northwest Cider Association is to reach out to orchardists and let them know we're out there. To the established orchardist, who is content selling in the current market, [a transition to growing cider apples] might seem like an unreasonable risk. But to some it's an epiphany. The adventurous, pioneering souls willing to take that risk will likely find comfort in continuing direct sales relationships, and getting higher prices for the apples they grow. Best of all, cider makers are only concerned with quality of flavor—looks mean next to nothing to us.