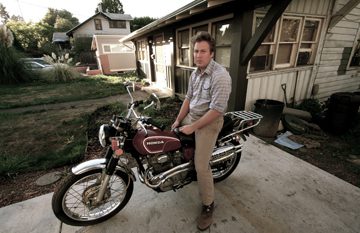 Beer often reigns supreme in the music world (check out our Q&A in the Sept/Oct 2011 issue with Decemberists bassist Nate Query), but not all rockers favor suds. In fact, Al James, frontman of Portland, Oregon, folk rockers Dolorean, would rather tap a bottle of Burgundy. We caught up with the wine-swirling songwriter in advance of Dolorean's performance as part of MusicfestNW, happening this week in Portland. If you're in Portland, you can catch the band at Bunk Bar on Thursday, Sept. 8 at 11 p.m. And catch their latest video at doloreanmusic.com.
Imbibe: When did you first start getting into wine, and what was it about it that grabbed you?
Al James: I first got into wine when I moved to Portland in 1999 and got a job delivering for an importer/distributor. At the end of the day there were always dozens of sample bottles that the sales staff had taken out that were up for grabs. I would go through those wines and try them and read about them and ask the staff about them. I think my first eye opener was a flight of Riesling from Domaine Weinbach. I couldn't believe that wine could be so detailed.
We hear that you're especially into French wines. Any favorite regions or producers?
Eventually I ended up working for a distributor that focused on Burgundy and the Loire Valley, so I think most of my experience is from these two regions. There's something about the overall style from these two areas that agrees with me. For the most part subtlety, craft, patience and discipline are all celebrated in these wine-growing regions, and those qualities just resonate with me. My favorite producers are François Chidaine, Etienne and Alix De Montille, the Foucault brothers and Philippe Alliet. In Champagne I love Pascal Agrapart, René Geoffroy and Cédric Bouchard.
Have music and wine intersected in any interesting ways for you?
Over the years there has been a nice synergy happening for me between wine and music. I think they're very similar in that they are one-of-a-kind experiences rather than simply products. You open the bottle. You put the needle on the record. They both demand that you slow down and pay attention. They're better when they're a shared experience with others. The record sleeve and the bottle and wine label are meant to be held and examined throughout the experience. They promote conversation and thought. There's lots of the same sort of ritual involved in both.
Do you take wine into the studio with you, or on tour?
I always try to bring wine into the studio. It's better than beer if you've got to sing vocals. No effervescence. We've packed flat cases underneath the van seats for tours. Sadly, it always disappears so fast. A few years back, Matt and Holly Kinne from McKinlay Vineyards sent us on the road with a case of their beautiful '05 Pinot Noir. Our first show was in Hamden, Connecticut, so it was a straight, non-stop shot, coast to coast. Every night we stopped at a dumpy motel and broke into the case. I don't think it made it past Pennsylvania.
Do you fit in wine tasting trips when you're touring with Dolorean?
We've always wanted to do something like this. If we could book a tour in Champagne alternating days between tasting and performing I think I'd be in heaven.
What are you drinking with dinner tonight?
Since we're having an extra late summer, it's still rosé time as far as I'm concerned. We'll have something light and easy—a bottle of Château La Canorgue Rose from Provence. This is my absolute favorite rosé that's available in Portland.