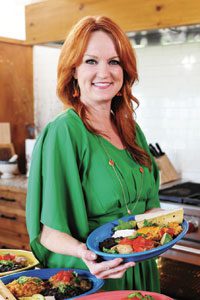 Who doesn't love Ree Drummond? As the sassy-yet-affable host of Food Network's The Pioneer Woman, each week Drummond invites viewers into her Oklahoma kitchen for a candid taste of life lived at home on the range. And even when the cameras aren't rolling, Drummond keeps busy maintaining a blog, writing cookbooks and running her family's cattle ranch with her husband and four kids. With the holidays on the horizon, the down-home darling chatted with us about what she kicks back with at the end of the day, staples of her holiday table and her favorite coffee-fueled winter indulgence.
Imbibe: With an online following in the millions, three books and a wildly successful Food Network show—not to mention the kids, ranch and all the animals—you're a busy person! Are there any favorite drinks you kick back with when you need to relax?
Ree Drummond: I'm definitely a wine person. I love white wine year round, and one of the things I love to do, that reminds me of my mom, is a white wine spritzer—basically white wine, really cold club soda, usually lemon or lime, and that's it. That way you can get away with having a couple of glasses. And then, of course, I want to drink red wine when we're having a winter roast or some kind of big holiday meal.
You're a self-professed coffee "freakazoid"—what's your favorite way to drink it?
I wake up every morning with iced coffee, so that's kind of my poison. I love hot coffee later in the day, though I definitely over-cream it—I always joke when I order my coffee that I'd like just a little bit of coffee with my cream.
You also infuse coffee into a number of your dessert recipes. Are there any particular food flavors you think pair especially well with coffee?
The thing to me about coffee is that there's not much it doesn't go with. Typically, I'll add coffee to my chocolate recipes, whether its brownies or this really easy pot du crème I make in the blender where coffee is the main ingredient—I just love the depth of flavor it adds. I really can't think of too many things I wouldn't put coffee with.
The latest season of The Pioneer Woman recently wrapped. What's been the biggest surprise in filming your own show?
For me, it's the learning curve of having to talk to a camera. Before filming my show I'd been on TV before, but it'd always been a morning show segment where there's a host I can have fun with. But when the camera started rolling with my show it was just me and I thought, "Oh my gosh, who do I talk to?" I was also surprised by how long shooting days are. I tell people to imagine a busy mother of four who has a website and writes books but who then has 14 fewer hours in a day. It's very much like childbirth—when it's over, you only remember the fun parts.
Any challenges in translating what you do online and in your books to television?
Well, I started out as a blogger, writer and a still photographer, so everything I'd done up to this point was on the other side of the camera. When I started my show I wasn't really sure if I'd translate to TV, since I'm most comfortable in my blogging realm where I can pause, and TV moves so fast. On the other hand, the thing I really love about TV is that it shows more dimension. And it shows my kids and life on the ranch—so I now have this wonderful video scrapbook to remember things by.
When it comes to eating and drinking, what are your guilty pleasures?
I love cheese, so anything with drippy, melty cheese is front and center. And I love anything with coffee in it—tiramisu, coffee ice cream, pot du crème—basically, nothing that's good for you.
With winter weather upon us, any favorite comfort dishes and drinks you enjoy to keep cozy?
I make this really decadent coffee drink with dulce de leche, whiskey and fresh whipped cream—it's divine. And I love things that I can make in my Dutch oven and let simmer—I make a beef stew with beer and paprika that's really delicious come winter.
Your savory whiskey cream sauce has become a staple at our holiday table. Any other boozy recipes you love?
I love to cook with booze, and I honestly don't know how not to splash wine in food—I just love it. I make a sweet whiskey-maple cream sauce that I serve with dessert. You can drizzle it over apple pie, fruit crisp or bread pudding—you can pour it into your coffee or drink it with a straw out of your fridge—it's just so delicious. And I love swapping in red wine for the broth in any kind of pot roast.
Any tricks to keep in mind while working with these spirited ingredients?
I don't know about rules, necessarily, but I try to add it at a stage that would allow it to reduce and cook off a bit. To me, broth and booze—and sometimes apple cider—are interchangeable, so it just depends on who you're cooking for and the flavors you're trying to create. And have fun with it! If you add too much booze, just cook it longer and it will eventually dwindle down.
What's on your holiday menu this year?
I always brine my turkey—I can taste the difference when I don't—and I'll probably do a mix of salt, peppercorn, orange peel, rosemary and apple cider. I'll probably keep things pretty traditional with mashed potato casserole, cornbread stuffing and acorn squash wedges. And everyone brings pie to share, which we top with my whiskey-maple cream sauce, of course!
Anything special on your holiday wish list this year?
I've had a really busy year, starting with my book tour and then TV shoots, so all I want is to be able to stay in my yoga pants, eat cinnamon rolls, drink dulce de leche coffee and relax. Nothing tangible—just lots of time with my family.