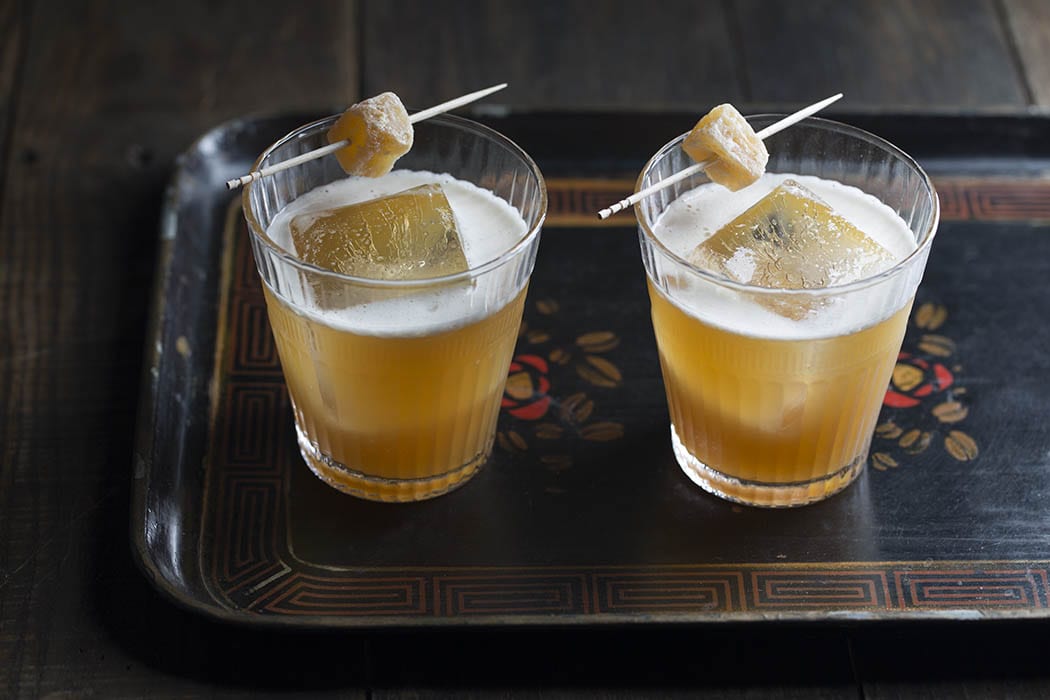 If you visit a Polish home during the holidays, you'll probably eat some fried carp, you might find hay under the dinner table, and you'll likely be offered kompot z suszu. The beverage is a traditional style of punch made from water and sugar simmered with dried fruits. At El Koktel in Warsaw, co-owner Paweł Rodaszyński makes his own version. "Obviously, we are using vodka—it's Poland's thing," he says. "This cocktail is a great variation on the Penicillin; it makes you warm during cold winters and keeps spirits up during family dinner on Christmas Eve."
1½ oz. susz (vodka infused with dried fruits)
¾ oz. fresh lemon juice
¾ oz. ginger-cardamom honey syrup
Tools: shaker, strainer
Glass: Old Fashioned
Garnish: candied ginger
Add all the ingredients to an ice-filled shaker and shake well. Strain into the glass over a large cube. Garnish.
Susz: In a large jar or other airtight container, combine a chopped ¼ cup each of dried apples, dried pears, dried apricots and dried plums with a 750-ml. bottle of vodka. Allow the mixture to infuse for 24 hours, then strain and bottle for use.
Ginger-cardamom honey syrup: In a blender, combine 14 oz. of honey (by weight), 3½ Tbsp. of peeled, chopped ginger, 10 cardamom pods and ½ cup of warm water. Blend for 1 to 2 minutes, then fine strain into a jar. It will keep for 2 to 3 weeks.
Paweł Rodaszyński, El Koktel, Warsaw, Poland
---
Did you enjoy this recipe? Sign up for our newsletter and get our favorite drink recipes of the moment in your inbox every month.