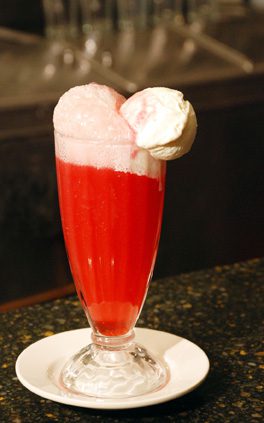 This electric pink ice cream soda gets its name from the frothy bubble effect created by the marriage of seltzer and ice cream. Brooklyn Farmacy soda jerk Peter Freeman uses Brooklyn's own P&H Hibiscus Syrup, but you can also make your own by steeping hibiscus tea in hot simple syrup for a few minutes.
2 oz. hibiscus syrup (see note above)
10 oz. seltzer
½ cup vanilla ice cream
Tools: barspoon
Glass: soda
Pour hibiscus syrup in a soda glass. Add chilled seltzer and stir gently. Add ice cream. Serve with a straw.
Peter Freeman, Brooklyn Farmacy, Brooklyn, NY