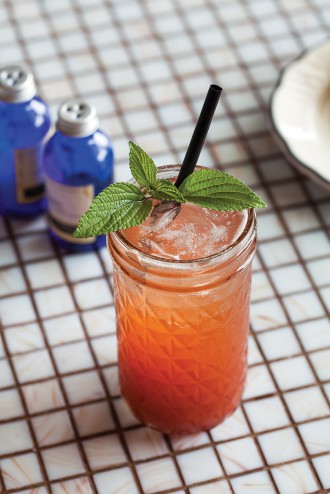 Fresh berries and balsamic flavor this summery strawberry soda.
1 ½ oz. Pickpocket soda syrup (recipe below)
4-5 oz. soda water
Tools: barspoon
Glass: highball
Garnish: basil sprig
Combine ingredients into an ice-filled glass, stir and garnish.
Pickpocket Syrup
2 lbs. fresh strawberries, puréed
2 ½ cups granulated sugar
1 ½ cups water
Zest and juice of one lemon
2 ½ Tbsp. balsamic vinegar
1 cup of fresh basil
Bring strawberry purée, sugar, water and lemon juice and zest to a boil. Reduce to simmer, add basil and vinegar. Simmer for 20 minutes, cool to room temperature then filter through a fine-mesh strainer.
Hillside Farmacy, Austin