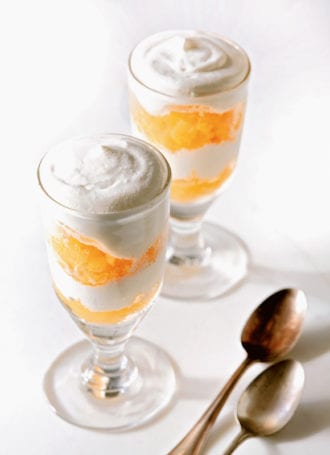 Among desserts, few are more refreshing than granita. This spirited recipe from Maria Zizka's The Newlywed Table highlights the sweet-tart zing of fresh tangerine juice, though any type of citrus will work, as long as you taste the juice and adjust the added sugar accordingly. Also, be sure to plan ahead, as the granita needs to freeze for at least 4 hours.
1 cup fresh tangerine juice
Juice of 1 Meyer lemon or regular lemon
2 Tbsp. granulated sugar, plus more as needed
1 Tbsp. orange liqueur or gin
½ cup heavy cream
1 tsp. confectioners' sugar
½ tsp. pure vanilla extract
In a small pot, combine the tangerine juice, lemon juice and sugar. Heat over medium-low heat, stirring occasionally, until the sugar completely dissolves. Taste a small spoonful and if it isn't sweet enough, add another tablespoon of sugar, stir to dissolve, then taste again. Repeat as needed. Remove from the heat and stir in the orange liqueur.
Pour the mixture into an 8-inch square or equivalent size dish, cover tightly, then freeze for at least 4 hours. At least once every hour, use a fork to lightly scrape the surface to break up the frozen juice into tiny crystals. (If you forget to scrape the granita and it freezes solid, don't worry—it will still work. Just let it thaw very slightly, then use a fork to scrape and break it up into tiny crystals.) Once the granita has been scraped to a fluffy consistency, cover the dish and freeze until ready to serve.
A few minutes before serving the granita, combine the cream, confectioners' sugar, and vanilla in a medium bowl. Whisk by hand until the cream holds very soft peaks. It's better to under-whip than over-whip here. As soon as the cream thickens and holds floppy peaks, stop whisking.
Layer a spoonful of granita in the bottom of a pretty glass or small bowl. Top with a dollop of barely whipped cream, followed by another spoonful of granita and more whipped cream. Serve promptly.
Serves 4 to 6.
Excerpted with permission from The Newlywed Table by Maria Zizka (Artisan Books). Copyright © 2019. Photographs by Aya Brackett.
---
Did you enjoy this recipe? Sign up for our newsletter and get our favorite drink recipes of the moment in your inbox every month.