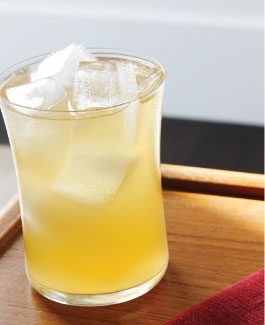 In creating this mocktail, Tom Schlesinger-Guidelli was looking for a way to marry warming winter notes with classic New England flavors. Combining a sage-juniper syrup with apple cider did the trick, and then he added ginger beer "to remind us in the winter months of the tropics, and also give a flavor that in and of itself is hot."
4 oz. apple cider
1 oz. sage and juniper syrup (see below)
1 oz. fresh lemon juice
2 dashes Regans' orange bitters (see tip)
Ginger beer
Ice cubes
Tools: shaker, strainer, barspoon
Glass: highball
Combine all ingredients with ice except the ginger beer and shake briefly to integrate ingredients. Strain into an ice-filled glass and top with ginger beer. Stir and serve.
Sage and Juniper Syrup
1 cup sugar
1 cup water
5 fresh sage leaves
10 juniper berries (dried ones are available at many gourmet groceries)
Heat ingredients in a saucepan until sugar dissolves. Remove from heat and let sit 10 minutes, then strain into a clean glass container. Keeps refrigerated for up to a month.
Tom Schlesinger-Guidelli, Craigie on Main, Cambridge, Mass.