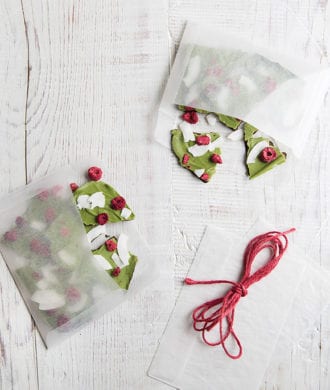 Matcha green tea lends a lovely color and flavor to this chocolate bark recipe from author Elisabet der Nederlanden's new cookbook Holiday Cookies. If you can't find freeze-dried berries at your local grocery store, Der Nederlanden suggests subbing dried unsweetened sliced tart cranberries.
½ tsp. coconut oil
8 oz. bittersweet chocolate, finely chopped
8 oz. white chocolate, finely chopped
1 Tbsp. matcha green tea powder
⅓ cup freeze-dried berries (such as strawberries or raspberries)
¼ cup unsweetened dried coconut flakes
½ tsp. flaky sea salt
Lightly rub the bottom and sides of a 9 by 13-inch rimmed baking sheet (quarter sheet pan) with the coconut oil. Line the bottom and sides of the pan with parchment paper, pressing to adhere it to the pan.
Place the bittersweet chocolate in a heatproof bowl set over (not touching) gentle simmering water in a saucepan. Heat, stirring often, until melted. Remove the bowl from the saucepan.
Spoon the melted chocolate onto the prepared pan, then, using an offset spatula, spread it into an even layer. Refrigerate the pan while you ready the other ingredients.
Place the white chocolate in a second heatproof bowl and melt over simmering water the same way, stirring until smooth, then remove the bowl from the saucepan. Using a fine-mesh sieve, sift the matcha powder into the melted white chocolate and stir gently until incorporated.
After the bittersweet chocolate is firm, spoon the matcha chocolate evenly over the surface and, using the offset spatula, spread it into an even layer. It does not have to be perfectly smooth. Little waves make it look natural and artistic. Sprinkle the berries, coconut flakes, and sea salt evenly over the top. Refrigerate for about 1 hour, until firm.
Break the bark into shards. Arrange the shards in an airtight container in layers, separated by sheets of parchment paper. Store in the refrigerator for up to 3 weeks.
Makes about 17 ounces bark.
Reprinted from Holiday Cookies by Elisabet der Nederlanden, copyright © 2017 by Ten Speed Press. Photographs copyright © 2017 by Erin Scott. Published by Ten Speed Press, an imprint of Penguin Random House LLC.
---
Did you enjoy this recipe? Sign up for our newsletter and get our favorite drink recipes of the moment in your inbox every month.