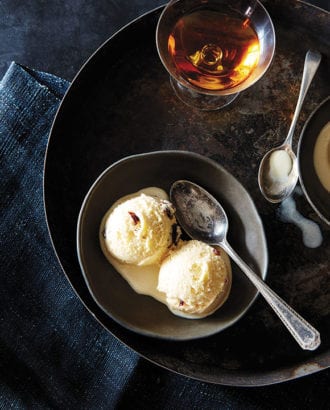 Channeling the soul of the Manhattan cocktail, this boozy ice cream from Food52's Angela Brassinga features a rye whiskey base and whiskey-soaked cherries for garnish.
Cherries
1 cup packed dried cherries, chopped
½ cup rye whiskey
½ cup sugar
To make the cherries, simmer the cherries, whiskey and sugar over medium-low heat until the cherries soften and the liquid reduces to a thin syrup, 7 to 8 minutes. Pour into a bowl, stir, then let cool.
Whiskey Ice Cream
8 egg yolks
1 cup sugar
3 cups whole milk
1½ cups heavy cream
1 Tbsp. rye whiskey
To make the ice cream, in a large bowl, whisk together the egg yolks and sugar until combined. In a large, heavy saucepan, bring the milk and heavy cream just to a simmer over medium heat. Gradually whisk the milk mixture into the yolk mixture. Return the milk-yolk mixture to the saucepan and cook over medium-low heat, stirring occasionally, until the ice cream base thickens, about 15 minutes (don't allow it to boil!). Stir the whiskey into the base, then pass it through a fine-mesh sieve into a bowl. Chill the base completely in the refrigerator for at least 4 hours but ideally overnight. Pour the base into an ice cream maker and churn it according to the manufacturer's instructions. During the last minute of churning, add the cherries. Makes about 1 pint (950ml).
Tip: That ice cream canister? It has to be frozen, like in-the-freezer-for-24-hours-in-advance frozen. Your ice cream mixture should also be as cold as possible before churning—chilling overnight is ideal but not essential. A warm mixture will result in a longer churn for a less-smooth ice cream (no matter how cold your canister is). The caramel or jam you want to swirl in shouldn't be warm, either, or it will freeze up crunchy. Once you churn the ice cream, move it to the freezer quickly. Although, there is enough time to sneak one—only one!—spoonful.
Reprinted with permission from Food52 Ice Cream and Friends: 60 Recipes and Riffs for Sorbets, Sandwiches, No-Churn Ice Creams, and More by the Editors of Food52, copyright © 2017. Published by Ten Speed Press, an imprint of Penguin Random House LLC.
---
Did you enjoy this recipe? Sign up for our newsletter and get our favorite drink recipes of the moment in your inbox every month.