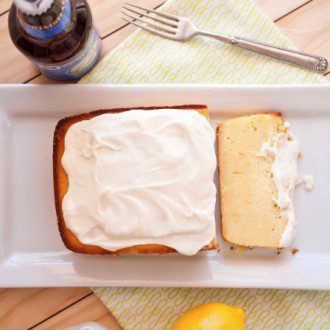 A tangy lemon loaf gets an added pop of flavor with a splash of summery pilsner in both the batter and the icing.
Lemon Pilsner Cake
1 ½ cups cake flour
1 tsp. baking powder
½ tsp. baking soda
⅓ tsp. salt
2 Tbsp. lemon zest
1 cup (2 sticks) unsalted butter
1¼ cups sugar
3 eggs
¼ cup fresh lemon juice
½ cup pilsner
Preheat oven to 350 degrees F and grease a large loaf pan.
In a large bowl, combine the flour, baking powder, baking soda, salt and lemon zest until well mixed.
In the bowl of a stand mixer, cream the butter and sugar on medium-high speed. Add the eggs, one at a time, beating well and scraping the bowl between additions. Add the lemon juice and mix until well combined. Turn the mixer on low and add the flour a half cup at a time until just barely combined, do not over mix.
Remove the bowl from the stand mixer and add the pilsner, stirring with a wooden spoon until just combined. Pour into prepared loaf pan. Bake at for 45-55 minutes or until the top turns a light golden brown and a toothpick inserted in the center comes out clean. Let cool and then top with Pilsner Cream Cheese Icing (recipe below) before serving.
Pilsner Cream Cheese Icing
4 oz. cream cheese, softened
1 cup powdered sugar
¼ cup heavy cream
¼ cup pilsner
½ tsp. vanilla
In the bowl of a stand mixer, add the cream cheese and the powdered sugar, beating until well combined. Add the remaining ingredients and whip until smooth.
Jackie Dodd, thebeeroness.com