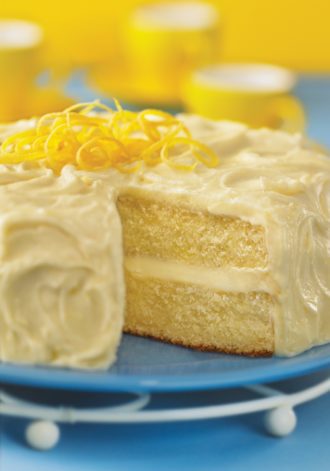 A splash of lemon-lime soda gives this moist, heavenly lemon cake recipe a super-sunny disposition.
For the Cake
2 cups all-purpose flour
2 cups granulated sugar
2 tsp. baking powder
1 tsp. salt
3 large eggs, at room temperature
1 cup buttermilk
½ cup unsalted butter, softened
½ cup vegetable shortening
2 tsp. finely grated lemon zest
¼ cup fresh lemon juice
¼ cup lemon-lime soda
1 tsp. pure vanilla extract
Preheat oven to 350 degrees F. Spray two 9-inch round metal baking pans with nonstick cooking spray.
In a large bowl, whisk together flour, sugar, baking powder and salt.
Add eggs, buttermilk, butter, shortening, lemon zest and lemon juice to flour mixture.
Using an electric mixer on medium-low speed, beat for 1 minute, until blended. Scrape sides and bottom of bowl with a spatula. Beat on high speed for 2 minutes (if using a stand mixer, decrease this by 1 minute).
Add lemon-lime soda and vanilla; beat on low speed for 15 to 30 seconds, until just combined.
Divide batter evenly between the two prepared pans.
Bake in preheated oven for 25 to 30 minutes or until a toothpick inserted in the center comes out with a few moist crumbs attached. Let pan cool on a wire rack for 10 minutes. Run a knife around edge of pans, then invert cakes onto rack to cool completely.
Place one cake layer, flat side up, on a cake plate or platter. Spread 3⁄4 cup of the frosting (see below) evenly over bottom layer. Top with the second cake layer, flat side down. Spread the remaining frosting over top and sides of cake. Refrigerate for 1 hour before serving.
Fresh Lemon Frosting
6 oz. cream cheese, softened
1 cup unsalted butter, softened
4 cups confectioners' sugar
1 Tbsp. finely grated lemon zest
½ cup fresh lemon juice
In a large bowl and with an electric mixer, beat cream cheese and butter on high until creamy. Gradually add confectioners' sugar, beating on low speed until blended. Scrape down bowl with a  spatula. Addd lemon zest and lemon juice; beat on high speed for 1-2 minutes or until fluffy. Cover and refrigerate for 30-45 minutes or until firm enough to spread.
Excerpted from Piece of Cake! by Camilla V. Saulsbury © 2011 Robert Rose Inc. robertrose.ca Reprinted with permission.