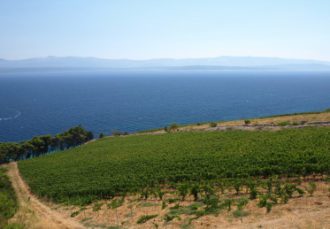 While island culture may seem more fitting for Mai Tais than Pinot Noir, the unique microclimates and soils of some islands are perfect for cultivating wines with flavors exclusive to their locales. Here are a few island wines that offer unique expressions of the islands from which they hail.
Svirce Coop Ivan Dolac 2006 $30
If Croatia has a paradise, the tiny island of Hvar is it. Billed as the sunniest spot in Europe, this Adriatic island was recently found to be the ancestral home of Zinfandel. This certified-organic Plavac Mali, which is a cousin to that rousing red, shows many similar familial characteristics with flavors of plump and juicy crushed berries with a touch of peppery spice on the finish.
Domaine Maestracci "E Prove" Corse Calvi Blanc 2007 $16
Corsica produces wines that are very different from anything seen on its French mainland. This Vermentino from winemaker Michel Raoust, who began his career in the Rhone Valley, has enticing herbacious notes that follow with subtle smoky characteristics on the finish. Try it with rich seafood and shellfish dishes.
Frogmore Creek Pinot Noir 2006 $20
From the mild and sunny climate of southern Tasmania comes this devilishly delicious Pinot Noir. Organically grown and hand-picked, this wine's bright acidity and tart cherry flavors make it a good food-pairing option—try it with anything from creamy pasta sauces to roasted red meats.
Sigalas Asirtiko-Athiri 2007 $17
If soft, sandy beaches and crystal blue water aren't enough to lure you to the Greek island of Santorini, maybe this organically grown Asirtiko-Athiri will do the trick. Famed producer Paris Sigalas coaxes notes of tart granny smith apple and bright citrus zest from this indigenous varietal grown on Santorini's volcanic soil.
Marco de Bartoli Passito di Pantelleria Bukkuram 2001 $64 for 500 ml.
Italy's tiny Pantelleria, an island in the Strait of Sicily, has been producing richly concentrated dessert wines for centuries. This unctuous, sun-dried sipper is no exception, with juicy notes of apricot and dried oranges. Enjoy it after dinner with a bite of biscotti or almond cake.