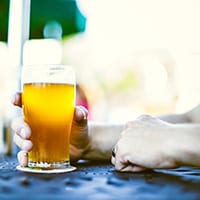 Perhaps no other style of beer has inspired the American craft brewing scene more than the IPA. And while the beer was once pigeonholed into a grouping of bitter, bristly brews, modern-day IPAs span the flavor spectrum with notes ranging from floral to piney to citrusy. With so many signature spins, and breweries coast-to-coast constantly introducing new interpretations, there are options aplenty. We sipped through some newer American IPAs and found more than a few favorites worthy of your summer beer bucket list.
Alaskan Icy Bay IPA
Juneau, AK 6.2% ABV
A remake of the Juneau-based brewery's original IPA, this new iteration introduces Bravo and Calypso hops to the kettle to join Summit, Cascade and Apollo hops from the original release. But don't expect the big bitter wallop of other hopped-up brews—at only 65 IBU it exudes summery freshness without a pine resin hit.
Anchor Brewing IPA
San Francisco, CA 6.5% ABV
A veritable bouquet of hops (nine and counting) meet with an assortment of barley malts for this amber-styled take on the classic IPA. Fresh fruit flavors up front open to pronounced hoppy kick that persists through the finish.
Deschutes Brewery Fresh-Squeezed IPA
Bend, OR 6% ABV
Citrus-forward Mosaic and Citra hops lend a fruity freshness to this IPA from Deschutes Brewery. Both bitterness and alcohol clock in on the lower side for the style (60 IBUs and 6% ABV), leaving room for flavors of grapefruit zest, dried herbs and mellow malts.
Flying Dog Easy IPA
Frederick, MD 4.7% ABV
A super-sessionable IPA, this low-ABV brew offers summer-ready satisfaction with notes of garden flowers, fresh citrus and cut grass. A soft wave of malts sweeps over the finish prepping the palate for another sip.
Kona Brewing Castaway IPA
Kailua-Kona, HI 6% ABV
A local pub favorite throughout Hawaii, Kona Brewing bottled its Castaway IPA and sent it to the mainland. Embracing the aloha-style of other easy-drinking beers from the brewery, it's distinctively tropical with notes of mangos and papayas offsetting the assertiveness of its mix of Galaxy, Citra, Millenium and Simcoe hops.
Maine Beer Co. Lunch
Freeport, ME 7% ABV
While not necessarily new, many hopheads aren't yet familiar with this IPA. Maine Beer Co.'s take on a West Coast IPA, it's as astute as they come, with a decisive freshness and notes of citrus zest, tropical fruit and peppery piney-ness—basically an IPA's best traits in one glass.
New Belgium RyePA
Fort Collins, CO 7% ABV
Rye spiciness mingles with four different hops (Galaxy, Simcoe, Mosaic and Cascade) for an assertive brew that more boldly inclined IPA drinkers will love.
Stone Enjoy By IPA
Escondito, CA 9.4% ABV
Stone Brewing explicitly incorporates the drink-by date right in this beer's name. And with a little over a month between bottling and expiration, it's as fresh as it gets.
Widmer Upheaval IPA
Portland, OR 7% ABV
An assortment of six hops (more than 2 pounds per barrel) delivers big flavor to this hazy IPA. Clearly an homage to fans of boldly bitter West Coast-styled India Pales Ales, this brew offers a classic mouthful of fresh citrus and pine.