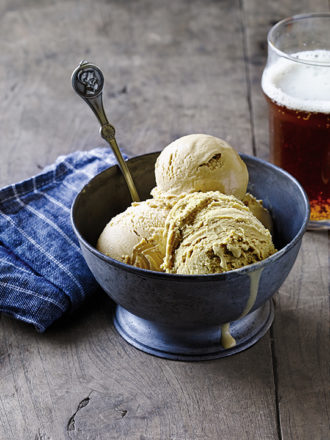 Certified cicerone and beer educator Stef Ferrari is equally fanatical about beer and ice cream. To capture the essence of a crisp, West Coast IPA, Ferrari created her IPI (India Pale Ice Cream) by deconstructing the ingredients in beer. Replacing sugar with Belgian candi syrup adds toasty hints of caramel, while hop flowers add aromatics and a bite of bitterness for the ultimate beer ice cream.
1 oz. hop flowers (available at homebrew supply shops)
1¾ cups heavy cream
5 tsp. cornstarch
1¾ cups whole milk, divided
½ cup Belgian candi syrup (available at homebrew supply shops)
5 Tbsp. nonfat dry milk
½ tsp. salt
In a small saucepan over medium heat, add the hop flowers to the cream. Bring to a gentle simmer for 5 to 7 minutes. Remove the hops and cool the cream completely.
In a small bowl, combine the starch with 3 tablespoons of the whole milk and whisk until smooth. Set aside.
In a nonreactive medium saucepan over medium heat, combine the hop-infused cream, Belgian candi syrup, nonfat dry milk, and salt. Whisk until well incorporated. Add the remaining whole milk and cook, whisking frequently.
In the meantime, prepare an ice bath to cool the mixture by filling a large bowl with ice.
Once the ice cream base reaches a boil, reduce the heat and simmer 4 to 5 minutes. Add the reserved starch-and-milk mixture and cook for one minute, stirring constantly with a rubber spatula. Remove from heat and pour into a heat-safe storage container set within the ice bath, such as a pyrex bowl.
Using an immersion blender, blend the mixture while still warm to homogenize the base and create a smooth and creamy final product.
Refrigerate the mixture overnight. When ready to make the ice cream, blend with immersion blender once more then add to your ice cream maker and freeze according to the manufacturer's instructions.
Makes about 1 quart.
Reprinted with permission from Ice Cream Adventures, © 2016 by Stef Ferrari. Published by Rodale.