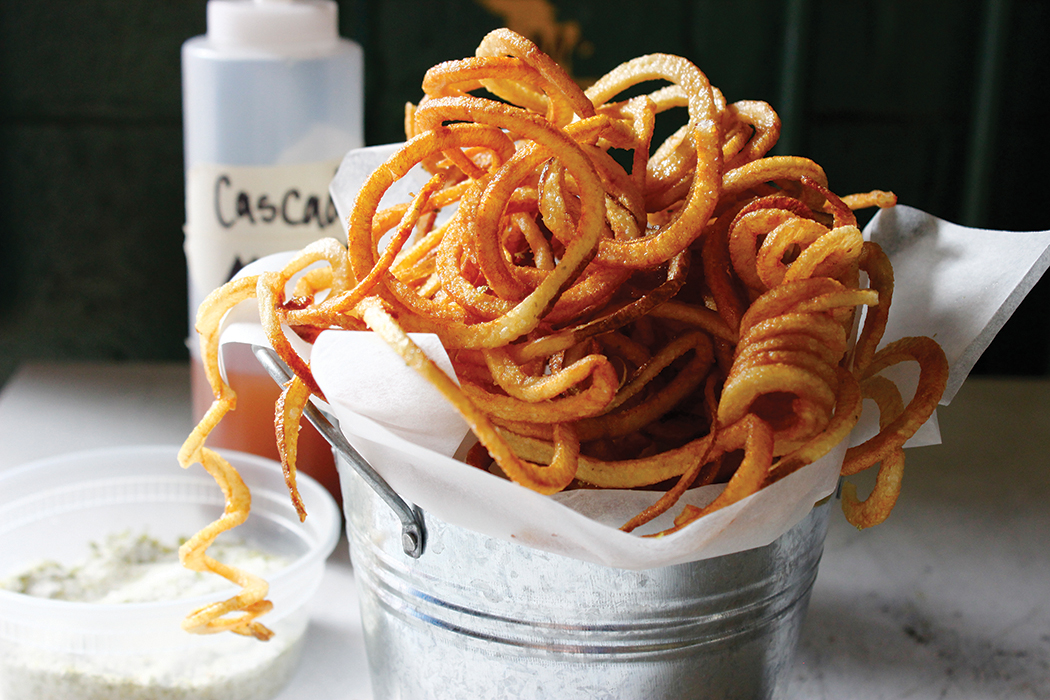 Who's up for some hop fries? Beer and fried potatoes is the quintessential pub pairing, and in the newly released American Burger Revival, co-authors Samuel Monsour and Richard Churdy combine the duo into one suds-soaked dish for these crispy curled potatoes.
For the Citra Hop Seasoning
2 Tbsp. kosher salt
1 Tbsp. granulated sugar
1 tsp. Citra hop pellets, crushed with fingers into a fine powder
Zest of ½ a lemon
For the Cascade Malt Vinegar
1 cup malt vinegar
2 tsp. Cascade pellet hops, crushed with fingers into a fine powder
For the Curly Fries
2 large Russet potatoes, scrubbed clean
24 oz. IPA
1 Tbsp. kosher salt
4 cups canola or peanut oil, for frying
To make the Citra hop seasoning, mix the seasoning ingredients together in a small bowl and set aside until you're ready to season fries.
To make the malt vinegar, pour the vinegar into a squeeze bottle, add the hops and let the mixture steep at room temperature for 1 hour. Refrigerate until ready to use. (The malt vinegar will keep in the refrigerator for up to 6 months.)
To prepare the potatoes, run them through a spiral cutter (alternatively, slice into long, thin pieces). As the fries are cut, immediately soak them in IPA seasoned with the salt. Soak for at least 1 hour and no more than 4 hours. Drain thoroughly.
Heat the frying oil to 375 degrees F and begin frying the potatoes in batches until golden brown and crispy, about 3 to 4 minutes per batch.
With a slotted spoon, remove the fries from the oil and place onto a brown paper bag. Sprinkle with Citra seasoning. Repeat steps until all fries are cooked.
Enjoy with Cascade malt vinegar. Serves 2-4.
Reprinted with permission from American Burger Revival: Brazen Recipes to Electrify a Timeless Classic by Samuel Monsour and Richard Chudy. Published by Union Park Press.