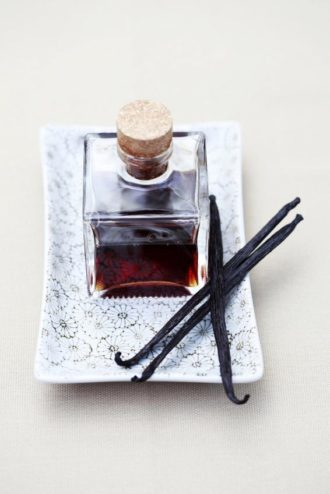 This recipe from Jesse Smith of 5 by 5 Tonics incorporates vanilla beans into a sultry batch of bitters perfect for richening a classic Manhattan or a Vida Old Fashioned. "These bitters are definitely best suited for cocktails with a creamy, rich or warm flavor," says Smith, an herbalist and acupuncturist who moonlights as a producer of cocktail bitters. Smith doesn't yet sell a bottled vanilla bitters, but his 5 by 5 Aromatic Bitters and 5 by 5 Aged Citrus Bitters can be purchased through his website and at a growing number of retailers in the Chico and San Francisco areas. As for this recipe, all you need is eight ingredients and two weeks' worth of patience.
1 quart of 80- to 90-proof vodka
8 vanilla beans chopped or split lengthwise
1 Tbsp. roasted barley
2 tsp. gentian root
2 tsp. hulled cardamom
1 tsp. cacao nibs
1/2 tsp. whole black peppercorns
1 to 2 Tbsp. blackstrap molasses (depending on how sweet you want it)
Place all ingredients except molasses in a quart-sized mason jar, seal the lid, and allow to infuse at room temperature for 1 to 2 weeks, agitating the jar once per day. Once the flavors are fully extracted, remove the solids using a fine strainer or a coffee filter and stir in the molasses, to taste, until completely dissolved. Store in small, 2- to 4-ounce dark brown glass bottles, preferably with dropper lids.
Jesse Smith, 5 by 5 Tonics, Chico, California