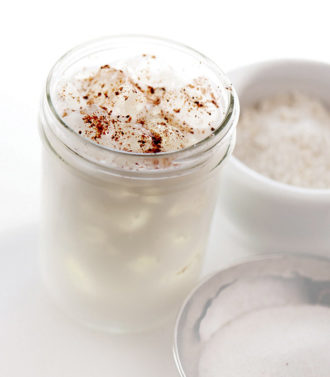 Simple and refreshing, a glass of horchata evokes the sweet flavors of Mexico. But finding the perfect recipe was easier said than done for Joshua Kimball, chef at Por Qué No Taquería in Portland, Oregon. He traveled to Guadalajara only to get a taste of what he didn't want to serve. "Everywhere we went people were drinking powdered or premixed horchata," he says. "We wanted to get back to something more authentic."
Traditional recipes call for everything from nuts to grains, but Kimball's combines the best of both worlds. Adapted from a recipe from Rick Bayless' Authentic Mexican: Regional Cooking from the Heart of Mexico, Kimball's recipe combines blanched almonds with raw white rice to smooth and creamy results. Add a splash of dark rum to make an Horchata Borracha, which appropriately translates to "drunken horchata," a decidedly grown-up take on a sugar-spiced classic.
½ cup uncooked, long-grain white rice
1 ½ cups blanched, slivered almonds (see tips)
1 cinnamon stick, preferably canela (see tips)
5 cups hot water (divided)
¾ cup granulated sugar
3 cups cold water
Tools:
Spice grinder
Food processor
Blender
Large mixing bowl
Clean kitchen towel
Strainer
Cheesecloth
Wooden spoon
Large pitcher
Pulverize rice in a spice grinder until powdery.
Blend almonds and powdered rice in a food processor until the mixture resembles coarse meal.
Transfer almond-rice mix to a large bowl and add cinnamon stick. Stir in three cups of hot water, cover with a clean towel and refrigerate for 10 hours.
Working in batches, purée the mixture on high speed in a blender for five minutes, pouring the puréed mixture into a new bowl.
Add the sugar and two cups of hot water to the mixture in the bowl. Working in batches, purée in a blender for three minutes on high speed.
Strain each blended batch through a cheesecloth-lined strainer and into a clean pitcher. Stir in three cups of cold water and refrigerate for up to three days. Serve over ice. Makes about 8 cups.
Tips: Canela, or Mexican cinnamon, is a softer, loose-bark cinnamon grown in Sri Lanka that's common in Mexican cooking. You can find it at gourmet grocers and Mexican markets. Common cinnamon sticks, or cassia, may be substituted for a more woodsy, subtle flavor.
Blanched, slivered almonds are available in the bulk grocery section of most natural-food markets. If you only have raw almonds on hand, blanch them first by covering with boiling water for one minute. Drain and rinse under cold water. Slip off the skins and coarsely chop prior to step 1.