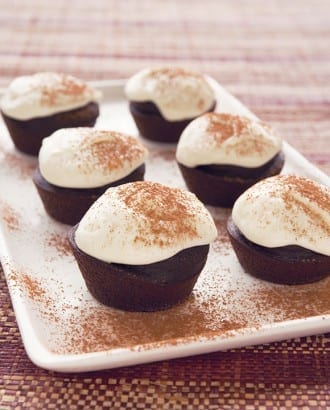 Like your beer with chocolate? Dave Lieberman likes beer in his chocolate. With its natural chocolate notes, Guinness stout is perfect for his cupcakes, lending a light texture and rich chocolate flavor. And with their thick dollops of cream-cheese frosting, the cupcakes look like little frothy pints.
1 12-oz. bottle Guinness stout
1 ½ sticks unsalted butter, melted
1 Tbsp. pure vanilla extract
3 large eggs
¾ cup sour cream
¾ cup unsweetened cocoa, plus more for garnish (for a richer chocolate taste, use up to ½ cup more cocoa)
2 ½ cups sugar
2 cups all-purpose flour
1 ½ tsp. baking soda
Frosting
1 8-oz. package cream cheese, softened
1 cup heavy cream
1 ½ pounds confectioners' sugar
Preheat oven to 350 degrees. In a large mixing bowl, combine the Guinness, melted butter and vanilla. Beat in the eggs, one at a time. Mix in the sour cream. In another large bowl, whisk together the cocoa, sugar, flour and baking soda. Gradually mix the dry ingredients into the wet Guinness mixture. Butter 24 muffin tins and divide the batter among them. Bake 25 minutes, until risen and set in the middle but still soft and tender. Cool before turning out of the tins. Makes 24.
To make the frosting, beat the cream cheese in a bowl until light and fluffy. Gradually beat in the heavy cream. Slowly mix in the confectioners' sugar. Top each cupcake with a heap of frosting and dust with cocoa.
From Dave's Dinners: A Fresh Approach to Home-Cooked Meals by Dave Lieberman.