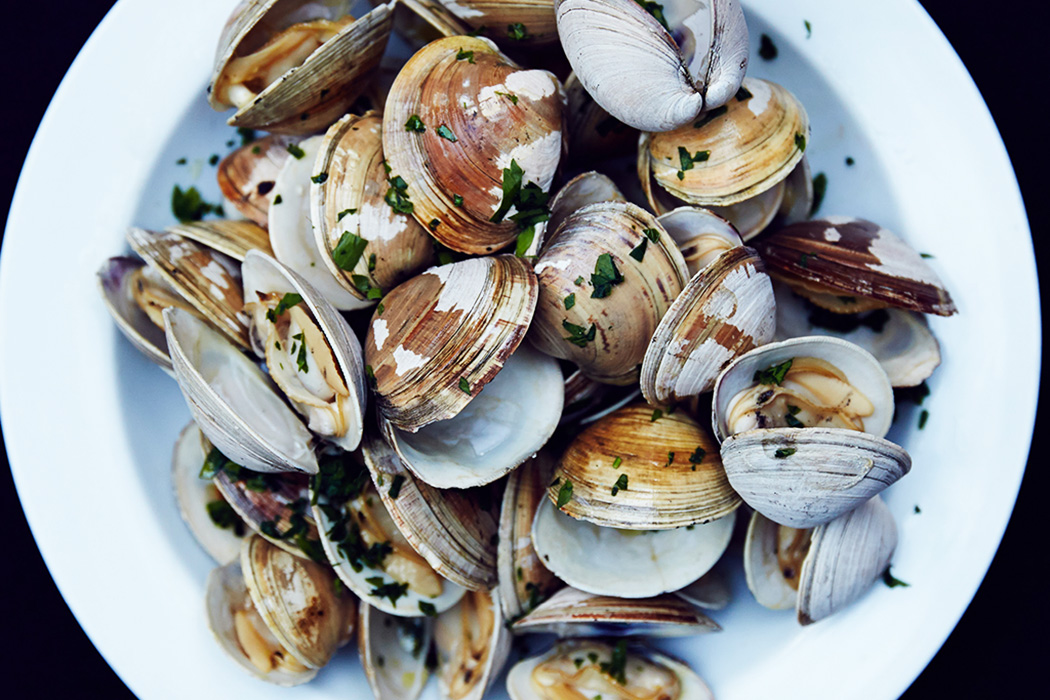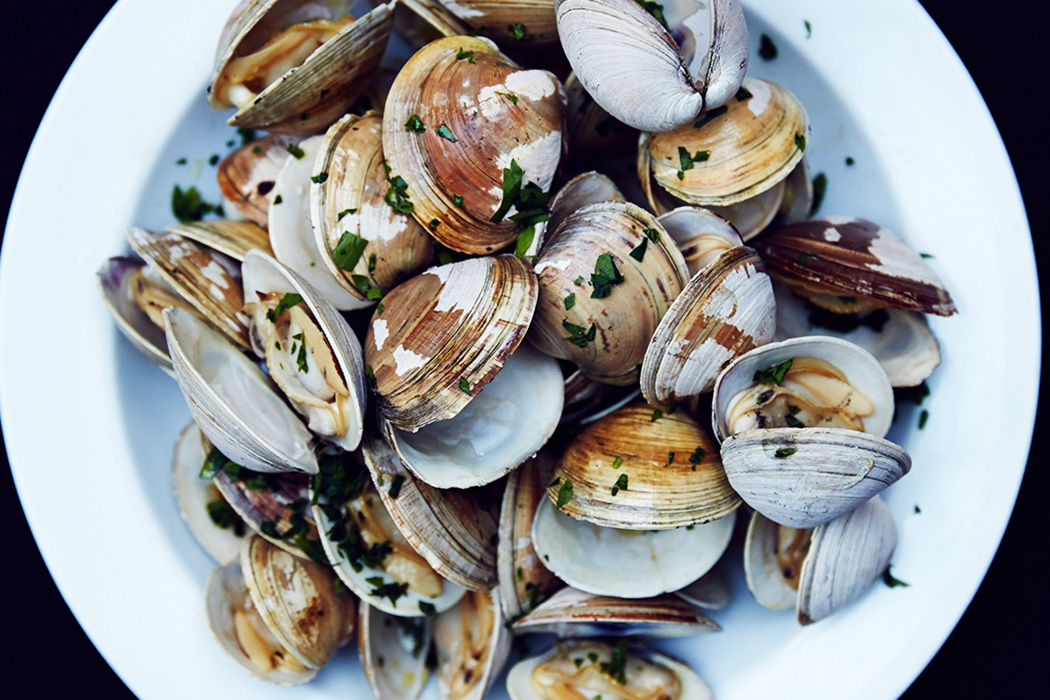 Whether it's beer, wine or liquor, alcohol can help boost the flavor of everything from barbecued meats to seafood. Restaurant owner and author Joe Carroll (Fette Sau, Spuyten Duyvil, St. Anselm) shares a few boozy recipes in his new book, Feeding the Fire, and this one for wine-bottle sauce is incredibly easy (and fun) to make, and it'll add a bright acidity to a variety of meats. We especially like it paired with his recipe for grilled clams.
Wine-Bottle Sauce
When I'm grilling loads of seafood for a crowd, I'll take a bottle of aromatic dry white wine, drink half of it, and then top the bottle off with olive oil and the juice of a lemon and shake it up (sometimes I add a chopped garlic clove or two and/or a chopped chile). I use this quick concoction three ways: as a marinade, to splash over fish or shellfish as it grills, and as a light, bright sauce. The sauce also works well on any grilled green vegetable. —Joe Carroll 
One 750-ml. bottle aromatic dry white wine, such as Sauvignon Blanc
1½ cups extra-virgin olive oil
Juice of 1 lemon
Pour half of the wine (about 1½ cups) into your glass for drinking, and add the olive oil and lemon juice to the bottle. Cover the top of the bottle with your thumb and shake well. Leftover wine sauce will keep in the sealed bottle in the fridge for up to 1 day.
Grilled Clams
2 lbs. littleneck clams or cockles (about 2 dozen), scrubbed
3 Tbsp. melted garlic butter (see below)
¼ cup chopped parsley
Freshly ground black pepper
Lemon wedges (or Wine Bottle Sauce), for serving
Crusty bread, for serving
Start charcoal and let burn until coals are glowing red and coated in gray ash, about 15 minutes. Spread an even layer of charcoal, about one or two coals deep, over the bottom of the grill.
Place the clams directly on the grill grates. After 3 to 5 minutes, the clams will begin to open: as they open, using tongs, transfer them to a bowl, being careful not to spill any of their delicious juices. Discard any clams that don't open after 8 minutes.
Drizzle the clams with the wine-bottle sauce, sprinkle with the parsley, and season with pepper. Add linguine, red pepper flakes to turn the appetizer into a full meal. Serve with lemon wedges and crusty bread.
Makes 4 appetizer servings
Adapted from Feeding the Fire by Joe Carroll and Nick Fauchald (Artisan Books). Copyright © 2015. Photographs by William Hereford