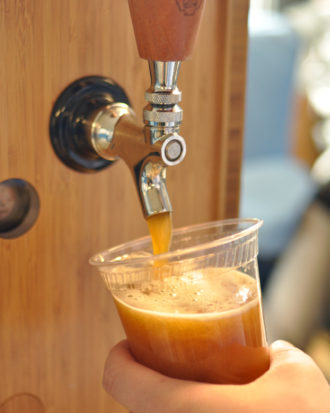 Fresh-grated ginger meets with warming spice in this frothy ginger beer recipe from Brooklyn Soda Works.
1 ½ oz. fresh ginger juice
1 ½ oz. fresh lemon juice
½ oz. molasses
2 pieces star anise
½ stick cinnamon
½ tsp. allspice
½ tsp. cloves
2 oz. cane sugar
Tools: carbonation siphon, strainer
Glass: pint
Grate fresh ginger and squeeze out the juice, discarding the pulp. Bring water to a simmer. Add sugar and molasses. Add star anise and cinnamon to water, and simmer for 30 minutes. Remove from heat and add allspice and cloves. Steep in hot liquid for 5 minutes. Strain. Add the liquid to ginger juice and lemon juice. Liquid should be as cold as possible before carbonation, so place liquid in the freezer for at least 15 minutes. Pour liquid into carbonation siphon. Pop in the CO2 cartridge to the siphon, and shake siphon for 30 seconds so that liquid absorbs the CO2.
Caroline Mak and Antonio Ramos, Brooklyn Soda Works