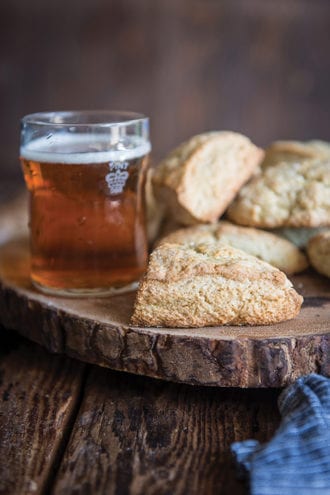 One of our favorite boozy bakers, The Beeroness, is back with a new cookbook, and these ginger-tinged beer scones are a highlight. "The ginger is subtle but noticeable, and the scones are perfect with a little orange marmalade and a beer for an afternoon treat," Dodd writes. This recipe makes 12 scones.
Dough
3¼ cups all-purpose flour + more for dusting
¾ cup granulated sugar
1 tsp. baking soda
½ tsp. baking powder
½ tsp. kosher salt
1 Tbsp. grated lemon zest
2 tsp. grated fresh ginger
½ cup buttermilk
¼ cup Oktoberfest beer
1 stick unsalted butter, melted
Topping
1 Tbsp. Oktoberfest beer
1 Tbsp. granulated sugar
¼ tsp. kosher salt
To make the dough: Preheat the oven to 400°F. Line a rimmed baking sheet with parchment paper. In a mixing bowl, stir together the flour, sugar, baking soda, baking powder, salt, lemon zest, and ginger. Add the buttermilk, beer, and melted butter. Using a fork, stir until the dough is just combined. Flour a clean, dry work surface. Turn out the dough. Divide it into 2 equal pieces. Form each piece into a 1-inch-thick disk. Cut each disk into 6 equal wedges. Transfer the wedges to the prepared baking sheet.
To top: Brush the top of each scone with the beer. Sprinkle with the sugar and salt. Bake until the scones are lightly golden brown, about 18 minutes. Serve warm.
Reprinted with permission from Lush: A Season-by-Season Celebration of Craft Beer and Produce by Jacquelyn Dodd, Agate Surrey, October 2019.
---
Did you enjoy this recipe? Sign up for our newsletter and get weekly recipes and articles in your inbox.